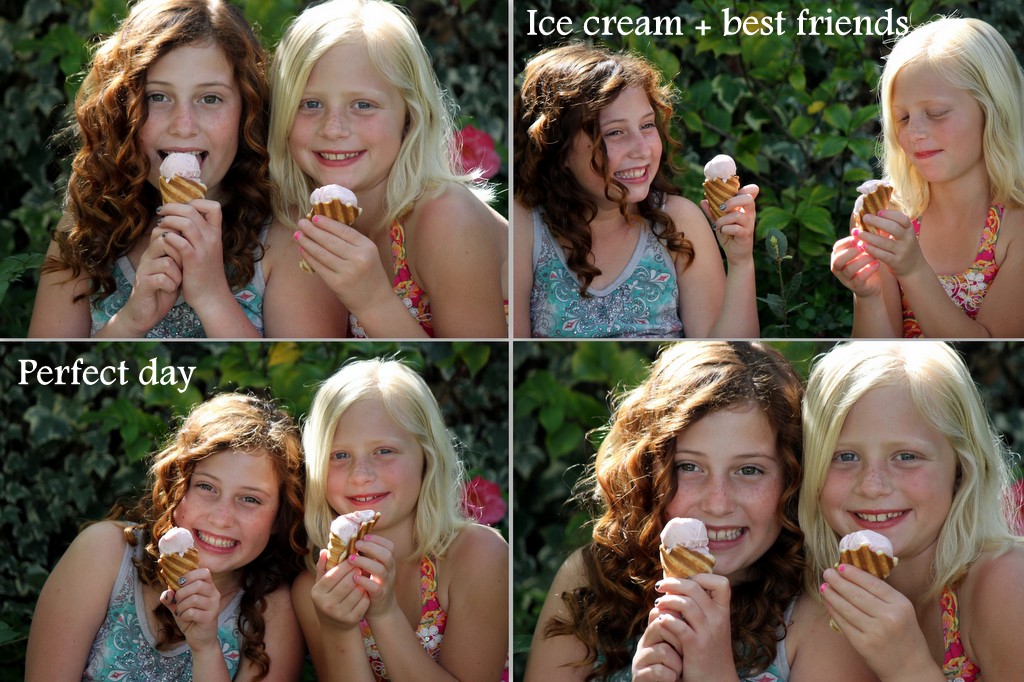 I have yet to experience a summer living gluten free. In Cape Cod, where we spend the majority of our summer, our diet is equal parts native berries and ice cream. Sort of like the bears in Yosemite. Many a day has been spent wading in the water, collecting crabs or eels, leaving us hot and famished, sandy and sticky–a perfect storm for throwing in the towel on dinner and going out for ice cream instead. Faced with a future without waffle cones, and inspired by Karen Morgan's cooking class last weekend at the Gluten and Allergen Free Expo, I decided to try to make my own.
In the class, Karen made her cones on a cute little pizzelle iron. Because I do not own one (and have absolutely no more space in my small kitchen to store one) I began to think of alternatives. I remembered seeing a blog post some time ago by Kathy Strahs of Panini Happy. She made adorable mini cones on her panini press (which is known as a panini machini around these parts). So I set to work adapting her recipe to be gluten free. And I'm thrilled to report that it worked…and very well indeed!
There is a bit of a learning curve, to be sure. You need to play around with how much dough to put in the press, how firmly it needs to be pressed down, and how quickly the flat cone needs to be rolled around the mold (quickly…and it is hot). I learned that the thin cookies are easier to roll without cracking. I also discovered that I like the flavor of the darker cones, but that those need to be rolled when they are very hot or they will crack. Once I got the hang of it, I had about a dozen adorable cones, just waiting to be filled with ice cream (homemade, of course).
Kathy and I both have a Breville Panini Press. You need a press that closes completely to smoosh the dough firmly so it is thin enough to roll easily (and to crisp properly). I'm sure that this recipe would work equally well in a pizzelle iron if you are lucky enough to own one. I replaced the regular all purpose flour in the recipe with my AP GF Flour Blend.  I can't guarantee the results with any other gluten free flour blend, but if you try it, please let me know how it goes.
Now I'm not going to go so far as to say that this recipe will save my summer…but it sure will make it a lot more pleasurable. And now that the weather has warmed up, I'm sure the kids won't wait until summer to put in their request for more homemade waffle cones.
These gluten-free ice cream cones taste just like the waffle cones from the ice cream shop! They are crisp and lightly spiced with a touch of cinnamon and nutmeg. Dip the tops in chocolate and sprinkle on gluten free sprinkles if you are feeling extra fancy. I made a mold to help me shape the cones by tracing around a salad plate onto cardstock. I cut it out, rolled into a cone shape and taped it in place. To shape the cones, simply roll the (very) hot cookie up and around the mold and hold it in place until it sets. Recipe adapted from Kathy Strahs of Panini Happy.
Ingredients
1 cup heavy cream
1 teaspoon gf vanilla extract
1/4 teaspoon almond extract
1 1/2 cups AP GF flour blend
1 1/2 cups powdered sugar
pinch of ground cinnamon
pinch of ground nutmeg
1 tablespoon cornstarch
Instructions
Whip the cream with a hand mixer or in the bowl of a stand mixer fitted with the paddle attachment until it forms soft peaks. Gently stir in the extracts.
Sift the flour, sugar, cinnamon, nutmeg and cornstarch and add it to the whipped cream. Fold together until a thick batter forms. Cover with plastic and refrigerate for at least 30 minutes.
Heat a panini press to 375 degrees (or medium high). Add a heaping tablespoon of batter and press down the lid firmly. Check on the cookie after 90 seconds. It should be deeply golden brown.
Remove cookie to a cool surface, let cool for 10 seconds then roll into a cone shape. Hold firmly in place for about 10 seconds longer or until the cone is set. Repeat with the remaining batter.