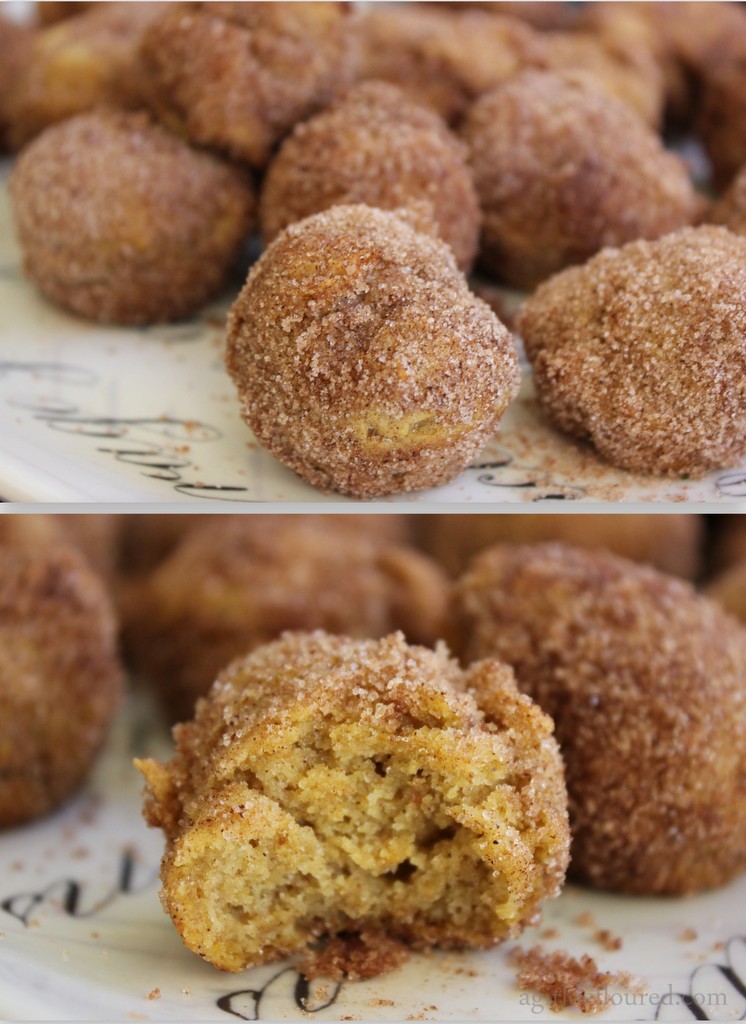 I have a deep and abiding passion for fresh, hot doughnuts that are sprinkled with cinnamon and sugar. When I was growing up, we had them once a year, from a little shack at a holiday craft fair. The ladies who ran the operation, dressed in shawls and bonnets (I think they were German Baptists), would pass grease-splattered paper bags of them through the window into our eager hands. They were tender and spicy and gobbled up in a matter of moments, usually accompanied by a styrofoam cup of hot apple cider.
Later, I learned about fresh apple cider doughnuts when we went apple picking. The doughnut queue would wind all the way around the barn, where a little machine was cranking out tiny circles as fast as it could. The wait was an hour. The wait was so worth it. I tried to duplicate them at home. The resulting doughnuts were large, dense and heavy with grease. Not exactly what I was going for.
Enter the French Doughnut Muffin. It is a thing of beauty, really, and easily adapted to many flavors. And it tastes almost identical to freshly fried doughnut holes, except they are baked and no specialty pans or cutters are required, save a muffin (or mini-muffin) tin. I've made them plain (with cinnamon-sugar on the outside), with apple cider, and with pumpkin. They are light and fluffy and absolutely scrumptious. I'm not going to pretend that they are healthy…but at least they aren't deep fried, right?
Pumpkin Spice Doughnut Holes
These spiced, bite-sized beauties are light, fluffy and delicious. I serve them for breakfast, with hot coffee or cider, but they would be equally wonderful for dessert with a scoop of vanilla bean ice cream. Yum.
Ingredients
For the doughnuts:
2 teaspoons baking powder
½ teaspoon salt
2 teaspoons pumpkin pie spice
½ teaspoon xanthan gum (omit if your flour blend already contains it)
⅓ cup vegetable oil
½ cup brown sugar
1 egg
1 teaspoon pure vanilla extract
¾ cup pumpkin puree (not pumpkin pie filling)
½ cup whole milk
For the sugar coating:
1 stick of butter, melted
⅔ cup granulated sugar
2 teaspoons cinnamon
Instructions
Preheat the oven to 350 degrees, and spray a 24 count (or 12 count) mini-muffin tin with gluten-free cooking spray. Set aside.
Whisk together the flour, baking powder, salt, spices, and xanthan gum in a large bowl. Add the oil, brown sugar, egg, pumpkin puree, and milk and whisk until smooth.
Using a small scoop or tablespoon, fill holes in pan about ¾ full. Bake for 12-15 minutes, or until a toothpick inserted in the middle of one comes out clean. Let cool in the pan for 5 minutes. You will probably need to bake 2-3 batches, depending on how big your pan is.
Place sugar and cinnamon in a large, zip-top bag. Dip the doughnut holes on all sides in the melted butter, then place in the bag, one dozen at a time. Seal bag and shake to coat with the sugar mixture. Serve immediately. These are best when eaten the same day.