5 Must-Make Recipes for Cinco de Mayo
5 Must-Make Recipes for Cinco de Mayo
I'm in favor of any excuse to have a party, especially a party that involves delicious Mexican food! I love Mexican food so much that I could eat it three times a day. Or four. Over the years I've shared a lot of Mexican-inspired recipes with you, so here are 5 must-make recipes for your Cinco de Mayo celebrations, or for whenever. I'm a firm believer that you don't need any excuse to enjoy tacos!
Authentic Braised Pork Carnitas | Get the Recipe
This dish is made with a large pork butt or shoulder roast. This particular cut of pork (butt or shoulder) is inexpensive, and must be cooked all afternoon. But it is incredibly tender and juicy and frankly out of this world. I often buy the biggest roast I can find and then freeze half of it after it's cooked and cooled so I have a quick and easy dinner set aside for another night.
Top these delectable authentic braised pork carnitas tacos with some chopped cilantro and onions, some avocado slices, and some spicy salsa. And don't forget the margaritas! ¡Salud!
Radish, Cucumber & Avocado Salsa | Get the Recipe
If I could take a bite of Mexico, I imagine it would taste much like this Radish, Cucumber & Avocado Salsa – fresh with an earthy undertone, bright with lime, and hotter than heck. (Ok…it's not that hot, but the Serrano chiles do pack a punch.) This delightfully zesty salsa is so good, you'll have a hard time not eating it all out of the bowl with a spoon.
Seafood and Chorizo Soft Tacos | Get the Recipe
These seafood and chorizo soft tacos are made from vegetarian chorizo which is lower in fat than the regular kind. I think it tastes exactly like the real deal. This meal comes together in minutes making it perfect for those busy weeknights. Since Cinco de Mayo falls on a Wednesday this year, these quick, meatless tacos would be perfect.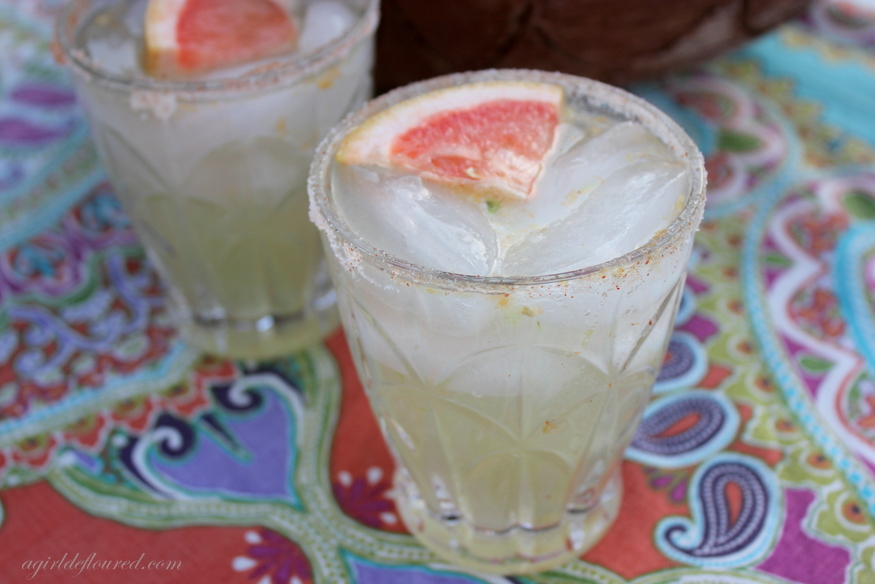 I've heard it said that the Paloma is the poor man's margarita. Made with a mixture of tequila & homemade grapefruit simple syrup, there is nary a lime to be seen in this cocktail. It is, however, light, refreshing and totally awesome. Sweet, tart, and spicy, this fun take on the margarita has it all. I think it's the perfect cocktail for summer gatherings and barbecues. Make the simple syrup earlier in the day so it's nice and cool by the time you are ready to get your drink on. Cheers!
Instant Pot Chicken Mole with Pomegranate Salsa | Get the Recipe
My take on chicken mole is much easier than traditional mole, but still packs a punch in the flavor department thanks to roasted tomatoes, spices, raisins, nuts, and yes, chocolate. The pomegranate salsa tastes as bright as it looks and is the perfect accompaniment to the rich mole sauce. These tacos are rich and flavorful, with just the right amount of spices to make them smell absolutely fragrant and delicious.
So there you have it! If you make any of these recipes, or any other recipe from my blog, drop a comment below and be sure to tag me on Instagram, and use the hashtags #agirldefloured #deflouredrecipes! Hope you have a very happy and delicious Cinco de Mayo!