Your Favorite, Delicious Gluten-Free Blueberry Muffins
Enjoy this recipe for your favorite, delicious gluten-free blueberry muffins from the archives (May 2012!!) – I've updated the photos, but the recipe is the same. I've been making these super easy, super delicious blueberry muffins for years and they are always a hit. I love that they are a one-bowl, no mixer required recipe. Chock-full of fresh juicy blueberries, they are just bursting with flavor. Of course fresh, local and in-season berries are best, but good quality frozen blueberries work well too.
This post was updated in May of 2021 with new images, frequently asked questions, and a new recipe card.
Jump to Recipe
Each year my kids' school hosts an event in the week preceding Mothers Day called Muffins for Moms. The premise is that moms join their kids before school for a breakfast in their honor. They are served, obviously, muffins. This year, my sweet daughter did not share the invitation with me, later telling my husband that she didn't want me to feel bad because I wouldn't be able to eat the muffins. That's sweet, right? Maybe she doesn't remember that we have never attended the event, mostly because getting to school at an ungodly hour to eat grocery store muffins isn't my idea of a good time. But I love how she was thinking of me and protecting me from disappointment.
The recipe is an old favorite from this cookbook, that was easily adapted to be gluten free. My gluten eating mom and sister said they taste just like the real deal, which to me is the highest praise. This recipe works equally well with fresh blueberries (my first of the season came in my CSA box this week) or frozen. When I use frozen blueberries, I prefer the tiny wild ones because they taste better and are more easily distributed throughout the batter.
Frequently Asked Questions About Gluten-Free Blueberry Muffins
How do you make gluten-free blueberry muffins from scratch?
The best muffins have the best ingredients, so look for local, in-season blueberries. This recipe is so easy and can be made in one bowl. If you use frozen blueberries, that's ok too, but be aware that it might take a few minutes longer to bake.
1. First mix the dry ingredients together.
2. Then whisk in the wet ingredients.
3. Carefully fold in the fresh (or frozen) blueberries and scoop into greased or lined muffin cups. Using an ice cream scoop to fill the muffin cups helps to ensure that each muffin is the same size. The size I like is a #16.
4. Sprinkle raw sugar and extra blueberries on top of the dough before baking to give them that "bakery" look.
How do you get tall bakery style muffins?
The trick to getting your muffins to rise higher is twofold; a relatively hot oven (I like 400 degrees F), and using jumbo style liners in a regular muffin tin (or using beautiful tulip liners). The taller the paper, the higher the muffin can climb!
How to you make gluten-free muffins that are less dense?
Using a light, gluten-free flour blend, such as Bob's Red Mill 1 to 1 or Cup4Cup certainly helps keep muffins light., as does the addition of whole milk, butter and eggs. It's also important to make sure to use fresh baking powder!
When is blueberry season in your neck of the woods? And what do you make with them…pies, jam, cakes, cobblers? Do tell!
Love blueberries? Same! Here are some more gluten-free blueberry recipes for you to try:
If you make this recipe, or any of my others be sure to tag me on Instagram, and leave me a star rating below. Thank you for your support!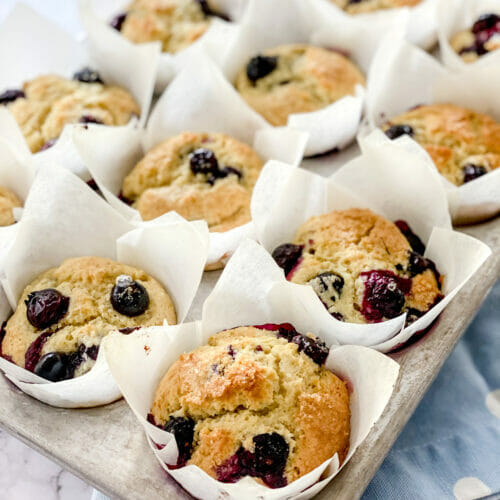 Your Favorite, Delicious Gluten-Free Blueberry Muffins
These glorious muffins are chock full of blueberries and are a favorite of my kids. I make them often in the summer after we visit the blueberry farm and pick loads of fresh berries, but in winter, I like to use the tiny frozen wild blueberries that are readily available at most markets.
Instructions
Preheat the oven to 400 degrees. Spray the cups of a 12 cup muffin tin with gluten free cooking spray or line with paper liners.

Whisk the flour, sugar, baking powder, salt and xanthan gum together in a large bowl. Add the eggs, milk, butter and vanilla and whisk until smooth. Fold in 1 cup of the blueberries.

Fill each muffin cup slightly more than half way. Sprinkle each with ½-1 teaspoon of the turbinado sugar and remaining blueberries. Bake about 18 minutes, or until a toothpick inserted in the middle of the muffin comes out clean. If you've used frozen berries the muffins may need to cook a bit longer.
Notes
The trick to getting your muffins to rise higher is twofold; a relatively hot oven (I like 400 degrees F), and using jumbo style liners in a regular muffin tin (or using beautiful tulip liners). The taller the paper, the higher the muffin can climb! Also remember, if you are using frozen blueberries your muffins may need to bake for a few minutes longer.
Nutrition
Serving:
1
muffin
Calories:
235
kcal
Carbohydrates:
36
g
Protein:
3
g
Fat:
9
g
Saturated Fat:
5
g
Trans Fat:
1
g
Cholesterol:
49
mg
Sodium:
252
mg
Potassium:
40
mg
Fiber:
2
g
Sugar:
21
g
Vitamin A:
300
IU
Vitamin C:
1
mg
Calcium:
71
mg
Iron:
1
mg
Thank you for helping support my small business! A Girl Defloured earns revenue in a few different ways; I have occasional sponsored post and I also earn an affiliate commission on the sales of products I link to— there might be a few of those links in this post. The only items that I feature are those that I use on a regular basis and that I truly love. I earn a small commission on your purchase, but you don't pay any more than retail price. This allows me to share my recipes with you (and keeps me well fed). THANK YOU!