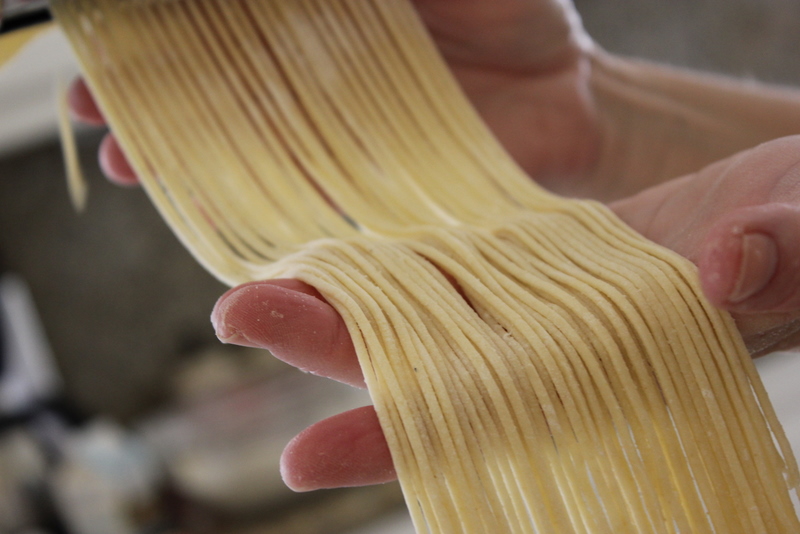 Prep time: 30 mins
Cook time: 3 mins
Total time: 33 mins
If you are new to making fresh pasta, you may want to cut this recipe in half so it's more manageable. Though it may seem a little challenging to master at first, fresh pasta is really quite simple to make, and you really can't beat the taste. I prefer a hand crank pasta machine, but those that can be attached to a KitchenAid mixer are a bit quicker.
3 Cups GF AP Flour Blend
1 teaspoon sea salt
4 teaspoons xanthan gum (omit if your flour blend contains it)
5-6 extra large eggs, lightly beaten
Pulse flour, salt and xanthan gum in the bowl of a food processor fitted with the steel blade attachment to combine.
Add 5 eggs, one by one, pulsing after each, until thoroughly combined. If dough is still crumbly, add one additional egg. Dough should be smooth and only slightly tacky to the touch.
Turn dough out onto a board that is lightly dusted with sweet rice flour. Knead dough until it comes together in a relatively smooth ball. Cut dough into four equal parts, and cover with a damp cloth so it stays moist.
Cut the first portion of dough into thirds and flatten each part with the palms of your hands. Set your pasta machine (either hand crank or attached to a mixer) on the largest setting (usually 6). Lightly dust the first portion of pressed dough with more rice flour and pass it through the machine, fold it into thirds and pass it through again. Set it aside on a clean dishcloth. Continue in this manner with the rest of the dough..
Turn the pasta machine down a notch to number 5. Pass each portion of dough through the machine again, gently laying them out on the dishcloth. Make sure you start with the dough you rolled out first and follow the same order each time.
Turn the pasta machine down another notch to number 4 and pass the dough through again in the same manner.
Turn the machine down to 3 and repeat.
At this point, the pasta will probably be all over your kitchen counters. These noodles can be cut by hand into lasagna, or fettuccine shapes, or you can cut the pasta with your machine. To do that, switch out the pasta press for the pasta cutter. I prefer the linguine or spaghetti cutter. Starting with the first pasta rolled, gently pass the pasta through the cutter, catching it with your hands as it comes out. Some of the edges will be shorter in length, and that's okay. Gently lay the longer strands across the back of a chair, on a pasta rack, or on a lightly floured surface. Continue with the rest of the pasta in the same way. Pasta can be used within a couple of hours, or refrigerated in a sealed container and used within a day or two.
To cook: Boil the pasta for 2-3 minutes in lightly salted water. Continually taste for doneness. Toss with any sauce you desire.
Recipe by
A Girl Defloured
at https://www.agirldefloured.com/fresh-gluten-free-pasta/