Flourless Almond Butter Cookies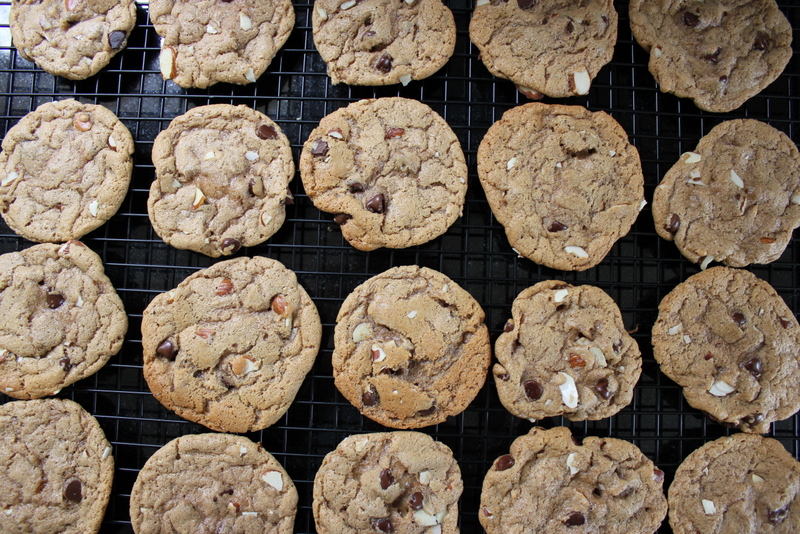 Two thoughts crossed my mind when I saw the recipe for these cookies on NPR–I have all the ingredients…and my kids will probably hate them. It's a rare occasion that I will make a treat solely for myself or my husband, and I usually appreciate the fact that the goodies I make are quickly devoured by my offspring. It saves me from the calories and makes me feel like Susie Homemaker. But sometimes when I do have a yen for those chocolate chip cookies I just baked I find that they are already gone. Gone! The only evidence they even existed are the crumbs under the cooling rack…and the chocolate fingerprints on the wall.
So darn it all if I don't deserve a cookie every once in a while too. And if I have to pack it with 'disgusting' nuts to keep the kids away, so be it. These cookies are complex, fragrant and have the perfect amount of crunch around the edges. Their chewy center is studded throughout with almond slivers and rich chocolate. I had one three with my afternoon tea, and I just may eat them for dinner too. They're packed with protein after all. Ahem.
Edited to add: My kids loved them in spite of the nuts. Next time I'm making cookies out of broccoli! Humph!
Edited again to add: I'm going to try a variation on these cookies when I bake them again–dried cherries and white chocolate chips (plus almond slivers).
Flourless Almond Butter Cookies
These crisp and chewy cookies, naturally gluten free, are studded throughout with rich chocolate morsels and almond slivers. I think these would make the perfect afternoon treat, especially when served with tea or hot Mexican chocolate.
Ingredients
1 cup almond butter (unsweetened)
½ cup light or dark brown sugar
½ cup granulated sugar
1 large egg
1 teaspoon baking soda
2 tablespoons maple syrup
1 teaspoon vanilla
Pinch of salt
½ cup slivered almonds
½ cup semisweet chocolate chips
Instructions
Preheat oven to 350 degrees.
Beat almond butter with the sugars until combined. Add egg and mix well. Beat in baking soda, maple syrup, vanilla and salt until dough is smooth. Stir in almonds and chocolate chips.
Measure dough into balls about the size of a tablespoon and place evenly spaced (about 2 inches apart) on a cookie sheet. Flatten slighty. Bake for 10-13 minutes, or until cookies are lightly golden brown. Remove from oven and let rest on the pan for 5 minutes, then remove cookies from the pan and allow to cool completely on a cooling rack.