Making fresh pasta had become a lovely weekend ritual that my husband and I participated in with some frequency in the years before my diagnoses. He turned the hand crank while I held the dough as it passed through the machine. We'd chat and sip wine, mellow music  playing softly in the background. As the pasta rested, I whipped up a sauce or topping with whatever fresh vegetables I'd picked up at the Sunday farmers' market. It was a wonderful time, and a supper that everyone in the family looked forward to.
All that came to a halt when I found out I was a celiac. While I knew that I could probably make a fairly good gluten-free fresh pasta, it would require a new machine (my old one was most certainly contaminated with gluten) and lots of patience as I tested out recipes. Last weekend we finally went out and purchased a new machine and made our first attempts. The dough started out very crumbly and dry (we live in a very dry climate), so I had to add more eggs. Then, while it was moist enough to come into a ball, it crumbled when we passed it through the machine. So I tried adding more xanthan gum. A lot more. Though I'm not a huge fan of the "gums" they are very necessary to get the proper texture and elasticity in gluten free pasta. This time, the pasta made it through the roller without falling apart, though the edges were a bit more ragged than I was used to.  I was a little worried that it wouldn't survive the cutting, but when we passed it through the linguine cutter, it thankfully held together quite nicely. I draped the longer strands over the backs of my chairs and all over my counters to let it rest for awhile. Later that evening, I boiled the pasta in lightly salted water and tossed it with a rich red sauce. As I tentatively took my first bites, I was relieved that the texture and flavor were exactly like I remembered–amazing!
There really is no comparison for fresh pasta. And making pasta is a little like making love. The first few times it feels a little clumsy and awkward, but once you get the hang of it (and if you have the right partner) it's an easy, fun and dare I say pleasurable way to spend the afternoon. Ahem.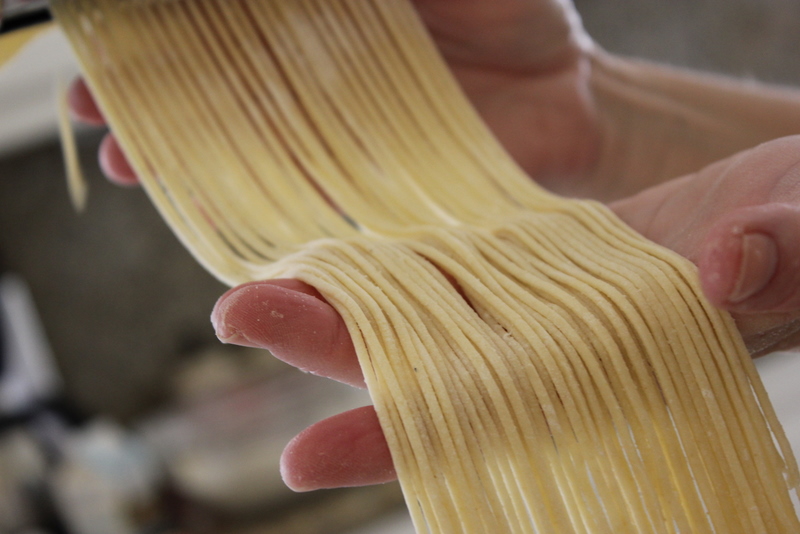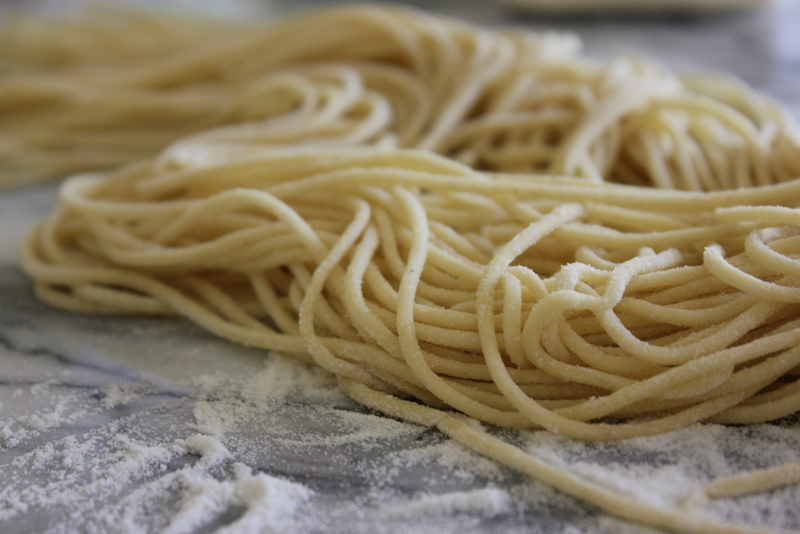 *The above photos were taken at a friend's house last week. She is embarking on an exciting new culinary adventure to benefit the gluten free community. I can't wait to tell you more, and I will just as soon as I can! Stay tuned!
Gluten Free Fresh Pasta
If you are new to making fresh pasta, you may want to cut this recipe in half so it's more manageable. Though it may seem a little challenging to master at first, fresh pasta is really quite simple to make, and you really can't beat the taste. I prefer a hand crank pasta machine, but those that can be attached to a KitchenAid mixer are a bit quicker.
Serves:
enough pasta for four people
Ingredients
3 Cups GF AP Flour Blend
1 teaspoon sea salt
4 teaspoons xanthan gum (omit if your flour blend contains it)
5-6 extra large eggs, lightly beaten
Instructions
Pulse flour, salt and xanthan gum in the bowl of a food processor fitted with the steel blade attachment to combine.
Add 5 eggs, one by one, pulsing after each, until thoroughly combined. If dough is still crumbly, add one additional egg. Dough should be smooth and only slightly tacky to the touch.
Turn dough out onto a board that is lightly dusted with sweet rice flour. Knead dough until it comes together in a relatively smooth ball. Cut dough into four equal parts, and cover with a damp cloth so it stays moist.
Cut the first portion of dough into thirds and flatten each part with the palms of your hands. Set your pasta machine (either hand crank or attached to a mixer) on the largest setting (usually 6). Lightly dust the first portion of pressed dough with more rice flour and pass it through the machine, fold it into thirds and pass it through again. Set it aside on a clean dishcloth. Continue in this manner with the rest of the dough..
Turn the pasta machine down a notch to number 5. Pass each portion of dough through the machine again, gently laying them out on the dishcloth. Make sure you start with the dough you rolled out first and follow the same order each time.
Turn the pasta machine down another notch to number 4 and pass the dough through again in the same manner.
Turn the machine down to 3 and repeat.
At this point, the pasta will probably be all over your kitchen counters. These noodles can be cut by hand into lasagna, or fettuccine shapes, or you can cut the pasta with your machine. To do that, switch out the pasta press for the pasta cutter. I prefer the linguine or spaghetti cutter. Starting with the first pasta rolled, gently pass the pasta through the cutter, catching it with your hands as it comes out. Some of the edges will be shorter in length, and that's okay. Gently lay the longer strands across the back of a chair, on a pasta rack, or on a lightly floured surface. Continue with the rest of the pasta in the same way. Pasta can be used within a couple of hours, or refrigerated in a sealed container and used within a day or two.
To cook: Boil the pasta for 2-3 minutes in lightly salted water. Continually taste for doneness. Toss with any sauce you desire.