The Best Weekend Gluten Free Buttermilk Waffles
These buttery Gluten Free Buttermilk Waffles are so light and crisp. Though they are perfect for long, leisurely weekend mornings, they are easy enough to make before school or work. The aren't overly sweet so they are a great match for a glug of maple syrup or a drizzle of honey, or fried chicken. Yum!
Jump to Recipe
Recipe card and instructions updated 06/17/22
Tips for making this gluten-free waffles recipe:
Make sure your waffle iron is hot, and well oiled. I prefer to use gluten-free cooking spray to make sure all the nooks and crannies get coated.
You only need to grease your waffle iron once, just before you cook your first waffle.
Your waffle will be done when the waffle iron stops steaming. I prefer my waffles on the crisp side, so I wait a little longer than that.
Waffles are best eaten right out of the waffle iron. Waffles aren't a breakfast that everyone gets served at once, and that's ok. If you absolutely MUST serve everyone at once, when the waffles are done place them on a rack over a baking sheet in a 200°F oven to keep warm. The rack is key, otherwise they will get soggy.
There is a LOT of butter in this recipe which is what makes the waffles crispy. You can use dairy-free butter if you choose, and make your own dairy-free buttermilk by adding 1 tablespoon of apple cider vinegar to your no-dairy milk of your choice.
Sometimes serving breakfast for dinner saves lives
I am supposed to be packing us up for the summer–sorting through summer clothing, washing laundry, and making a list for the woman who has bravely decided to take on my two crazy cats, one skittish dog, and umpteen dozen tomato plants in my garden while we summer in Cape Cod. Instead, I sit here thinking about waffles. Gluten-free buttermilk waffles, to be precise.
You see, buttermilk waffles are just the thing to have for dinner when you are too busy to make a proper one. It also uses up the last bits of buttermilk, butter and maple syrup and aids in cleaning out the fridge. As a bonus, they are just about the one thing that all my kids will eat without complaining. In fact, my middle one says that they're his favorite food, and he's not even the picky one.
I remember well the summer before his second birthday when he learned the word for the crisp, buttery breakfast he adored. Most mornings, he would pad around the kitchen, his tan, chubby hands pulling at my legs. Waffos, waffos, WAFFOS!!! His plaintive cries frankly drove me nuts, but I understood his obsession. Waffles are delicious, after all.
A classic recipe for buttermilk waffles
I tried all sorts of recipes for waffles, easy ones (meh), whole grain ones (not quite what I was looking for), and complicated ones (like the kind where the egg white are beaten separately then folded carefully into the batter-who has time for that?). Finally, in my old Fanny Farmer Cookbook, I came across Marion Cunningham's recipe for Buttermilk Waffles. They were a revelation–easy enough to prepare on a busy morning, but with a crisp and airy texture that rivaled the recipes that called for whipped egg whites.
I was sold, but the amount of butter required (a stick and a half) horrified me. I gradually reduced the butter each time I made the recipe until the waffles were still crisp, but slightly less buttertastic. And I was thrilled to learn after I went on a gluten free diet, that my all purpose, gluten free flour blend worked perfectly. Yes. Perfect gluten-free buttermilk waffles do exist after all!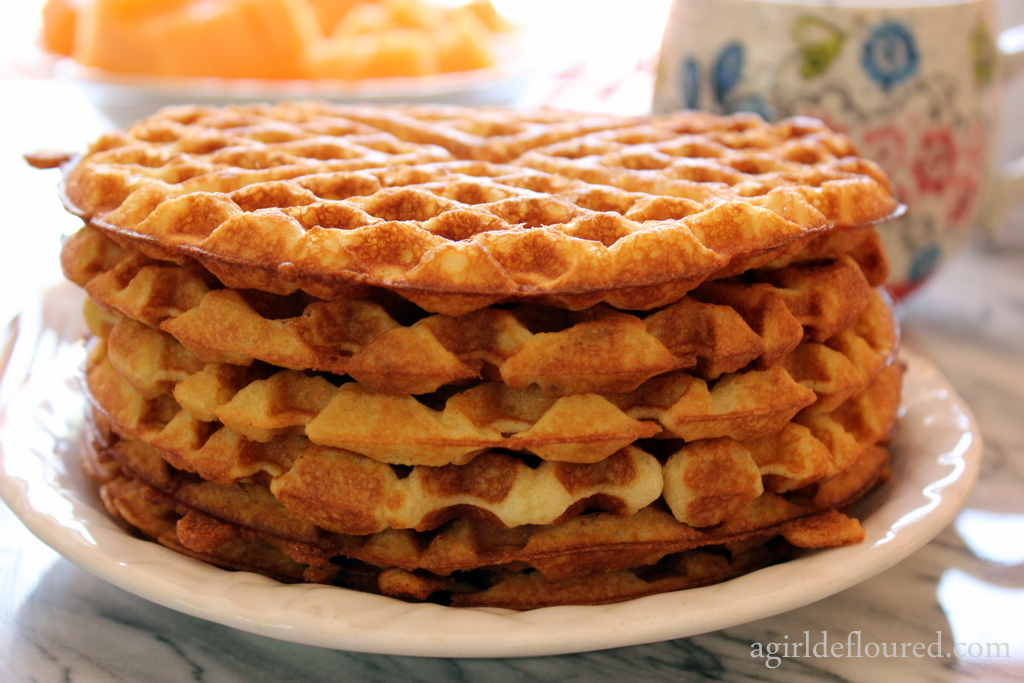 Waffles for breakfast are a given, waffles for dinner are a real treat, and waffles when your world (and house) is upside down is a no brainer. Hooray for Waffos, waffos, WAFFOS!!!
Love breakfast for dinner? Try these other scrumptious recipes!
If you make this recipe, or any of my others be sure to tag me on Instagram, and use the hashtags #agirldefloured #deflouredrecipes!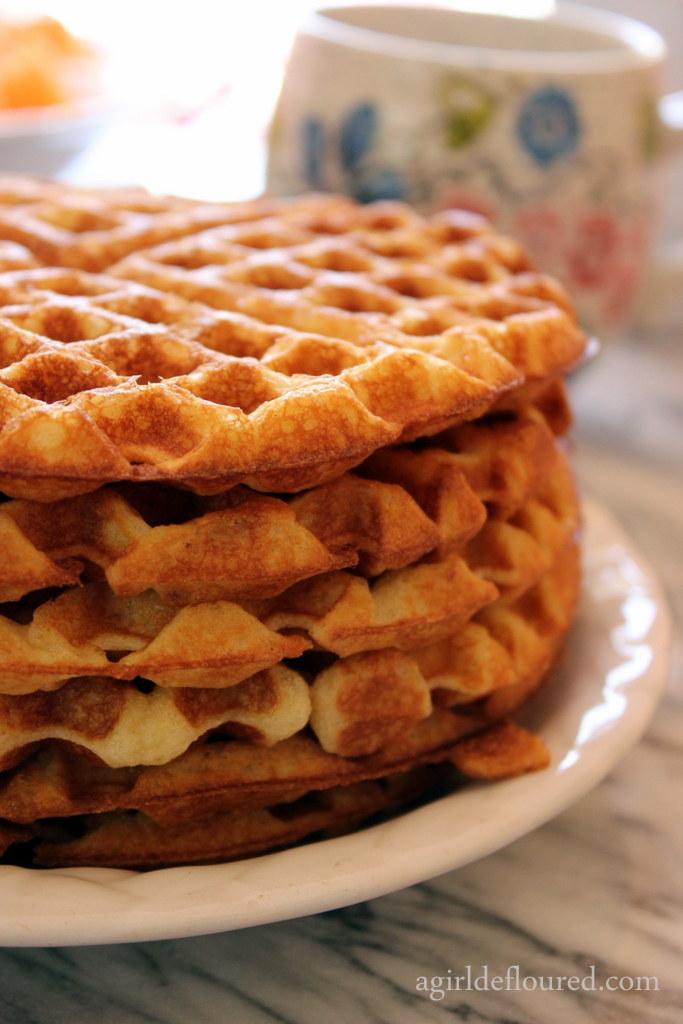 The Best Weekend Gluten Free Buttermilk Waffles
These waffles are buttery and crisp with a slight hint of tang from the buttermilk. Serve them for breakfast with warm maple syrup or honey, or for dessert, topped with fresh fruit and whipped cream. Yum!
Instructions
Spray waffle iron with gluten free cooking spray and preheat to a medium heat. Heat oven to 250 degrees.

Whisk flour with baking powder, baking soda, salt, xanthan gum and sugar. Add eggs, buttermilk, butter and milk. Whisk until no lumps remain. If the batter seems overly thick, add additional milk (up to ¼ cup more) to thin it.

Bake in a hot waffle iron according to manufacturers directions. You can remove the waffle to a baking sheet and keep warm in the oven, but I think it's best if it's eaten immediately. Serve with additional butter and warm maple syrup or honey.
Notes
These waffles are best eaten hot out of the waffle iron. To keep them warm, set them on a rack over a baking sheet and place in a 200°F oven. Extra waffles may be frozen. To freeze,

cool waffles completely and place in a large zip-top bag,

separating

each with a sheet of parchment. Freeze for up to three months. To reheat, place frozen waffle in the toaster or toaster oven.
Nutrition
Serving:
1
waffle
Calories:
247
kcal
Carbohydrates:
23
g
Protein:
6
g
Fat:
16
g
Saturated Fat:
9
g
Polyunsaturated Fat:
1
g
Monounsaturated Fat:
4
g
Trans Fat:
1
g
Cholesterol:
98
mg
Sodium:
524
mg
Potassium:
102
mg
Fiber:
2
g
Sugar:
7
g
Vitamin A:
530
IU
Calcium:
148
mg
Iron:
1
mg
Thank you for helping support my small business! A Girl Defloured earns revenue in a few different ways; I have occasional sponsored post and I also earn an affiliate commission on the sales of products I link to— there might be a few of those links in this post. The only items that I feature are those that I use on a regular basis and that I truly love. I earn a small commission on your purchase, but you don't pay any more than retail price. This allows me to share my recipes with you (and keeps me well fed). THANK YOU!