The Best Recipe for Gluten Free Chicken Pot Pie!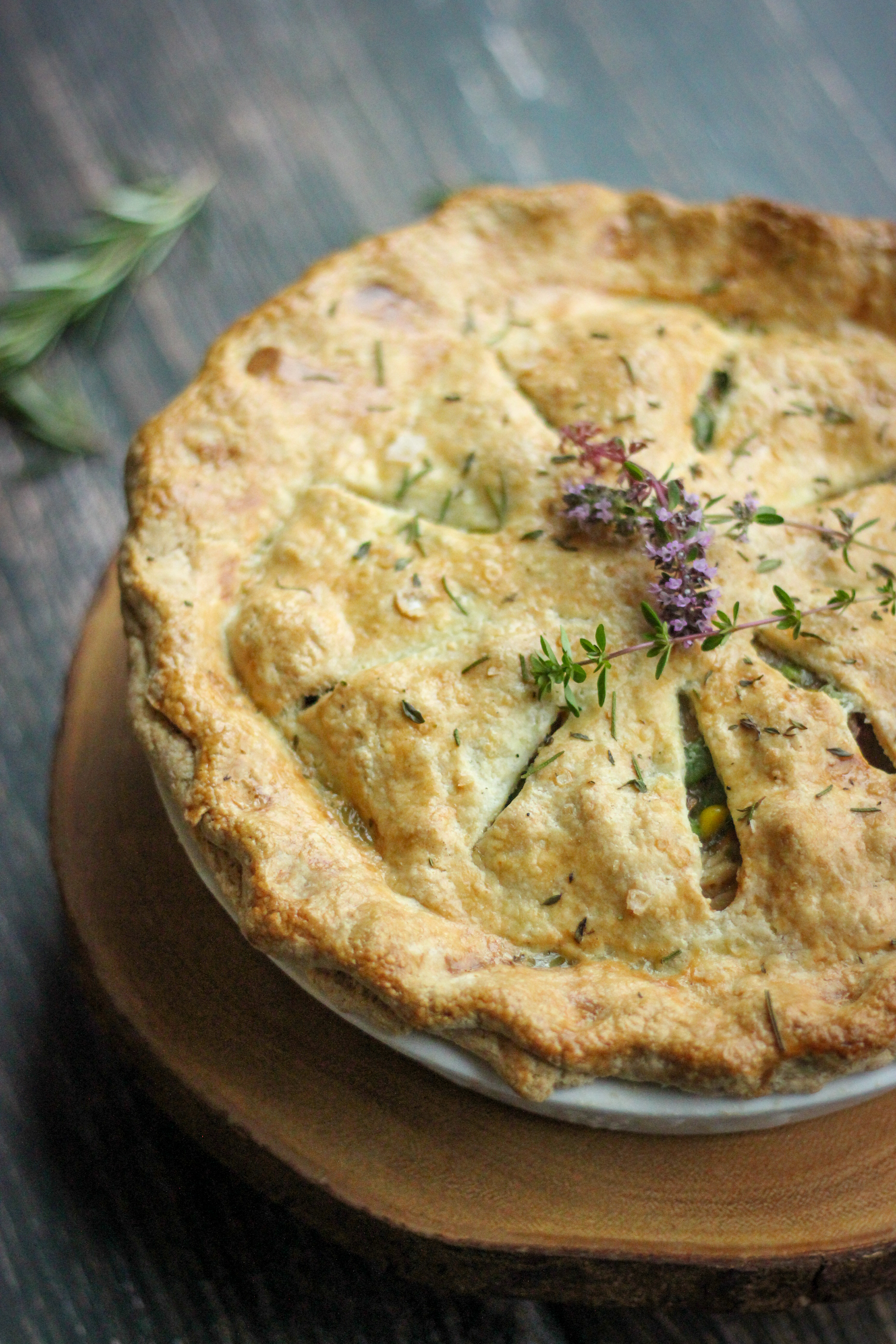 This delicious chicken pot pie is comfort food to the max. The filling can be made entirely from scratch, or entirely not, no judging here. Topped with flaky salt, fresh herbs, and the best, flakiest gluten-free pastry ever, this pie is a looker.
Recipe card and instructions updated on 9/18/21
This is the one in which I get a little whiny. If you don't want to join my pity party just scroll right down to the recipe! I don't blame you. I can hardly stand to listen to myself….go on, I'll wait…
Jump to Recipe
How Cooking Gluten-Free Chicken Pot Pie Saved My Life
Ok that might be a slight exaggeration.
On the plus side, this "Shelter at Home" business has given me what I have wanted for a very, very long time — the chance to work exclusively from home, more time with my kids, and much more time in the kitchen. It also means that I have more time to share my recipes with you.
On the negative side, every(!) single(!) thing(!) that I have been looking forward to has been canceled; from my birthday weekend in wine country to my kids' graduations (one from high school and one from college) and our much dreamed about family vacation to Europe to celebrate said graduations. Weddings have been postponed, events and concerts canceled. I even had to push back my "retirement" from my corporate job because of this damned virus.
Now I realize that my suffering is the suffering of someone who is incredibly privileged. I still have a job, when tens of millions do not. My kids are home and safe. And, their accomplishments are still valid even though we don't get to celebrate them with a formal ceremony. We are healthy and well fed. We have access to resources that so many people do not.
My heart is absolutely aching for those who are suffering, those who have lost jobs, those who have lost friends & family, and those who are simply lonely. I am keenly aware of all of this when I (more often than not these days) cry myself to sleep. I feel so guilty that I feel sad about the relatively trivial stuff I'm missing out on. But I'm in mourning, for you, for me, for all of us.
Comfort Food for Uncomfortable Times
My therapy has always been, and continues to be, feeding people. And the combination of me being home, and me being a total stress case means that my family has been eating extremely well. The fact that sometimes the only foods available in the market are, let's just say atypical, only makes it more exciting. We've had Cornish game hens, and roast turkey, tofu stir fries and kale, cabbage and dandelion greens. I'm baking sourdough bread on the weekly, and lots and lots of comfort food, like my famous stove-top macaroni and cheese, and this chicken pot pie.
How to Make Gluten-Free Chicken Pot Pie
I started with a whole chicken that I poached to make bone broth. If you have never made chicken broth from a whole chicken, it couldn't be easier. I make it in my crockpot or instant pot. But you can use a rotisserie chicken and a carton of good quality broth too. You might be surprised to learn that the veggies I used were FROZEN. It doesn't make a lick of difference in flavor if you dump in a bag of frozen veg, and it saves a whole heckofalot of time. The crust though? You need to make it from scratch. Good gluten-free pastry doesn't seem to exist unless you do it the "hard way."
Spoiler alert, it's time consuming but not that difficult.
Martin Luther King said, "The ultimate measure of a man is not where he stands in moments of comfort and convenience, but where he stands at times of challenge and controversy." Welp, these days, you'll find me standing in the kitchen with a big glass of wine, my music playing, and an oven full of something because that's how I'm dealing with all of this. How about you?
IN THE MOOD FOR COMFORT FOOD? TRY THESE RECIPES:
Did you make this recipe? Be sure to leave a comment and star rating below (⭐⭐⭐⭐⭐). It means a lot and helps my content get seen! Post a picture and tag us on Instagram using the hashtags #agirldefloured #deflouredrecipes! Thank you!
Chicken Pot Pie with the Flakiest Gluten Free Crust
This delicious chicken pot pie is comfort food to the max. The filling can be made entirely from scratch, or entirely not, no judging here. Topped with flaky salt, fresh herbs, and the best gluten-free pastry ever, this pie is a looker. If you do the whole thing from scratch it does take some time. The pastry alone is a bit of an undertaking. I like to space the prep out over a couple of days, especially if I'm poaching the chicken. But we have lots of time at home now, right? So get in the kitchen!
Instructions
Start by making the pastry. Add the tapioca, cornstarch, sweet rice flour, sorghum flour, sugar, salt and xanthan gum to the bowl of a food processor fitted with the steel blade attachment and pulse to combine. Add the butter and pulse until the mixture resembles coarse crumbs.

Add three of the eggs, one at a time, and pulse just until the mixture comes together.

Turn out onto a work surface, dusted with rice flour and knead just until it comes together. Divide in half, pat each half into a disk, and wrap well with plastic. Refrigerate for 2 hours or up to 2 days.

Make the gravy. Melt 4 tablespoons of butter in a large skillet. Stir in the onion and garlic and saute until translucent. Sprinkle over the flour and stir until evenly incorporated. Whisk in the wine (if using) and the broth. Bring to a simmer and reduce heat, whisking constantly, until thickened slightly. Stir in the thyme and rosemary and taste for seasoning. Add salt and pepper to taste. Set aside.

Preheat the oven to 425 degrees F.

Remove dough from the freezer after it has chilled. Place a sheet of parchment on the counter and dust with rice flour. Unwrap the dough and place on the flour. Dust the top of the dough with more flour and top with a second sheet of parchment. Roll the disk into a 10-inch round with a rolling pin. Remove one sheet of parchment and place the round into a standard (9-inch) pie plate dough side down. Remove the second sheet of parchment. Trim dough so that it only overhangs the edge by 1-inch.

Add the chicken to the crust. Top with the frozen (or steamed, cooled) vegetables then pour the gravy over the top.

Roll out the second disk of dough following the procedure in the above steps. Carefully place dough over the chicken and veg and trim the dough to meet the edge of the bottom crust. Fold the edges of dough under and crimp. Make 4-6 slits around the center of the pie to vent it.

Whisk the remaining egg and brush over the top of the pie. Sprinkle with flaky salt and fresh herbs.

Bake for 35-40 minutes or until the pie is golden brown and the filling is bubbling. Cool for 10 minutes, then slice and serve immediately.
Nutrition
Serving:
1
slice
Calories:
438
kcal
Carbohydrates:
40
g
Protein:
6
g
Fat:
29
g
Saturated Fat:
17
g
Polyunsaturated Fat:
2
g
Monounsaturated Fat:
8
g
Trans Fat:
1
g
Cholesterol:
154
mg
Sodium:
372
mg
Potassium:
235
mg
Fiber:
3
g
Sugar:
2
g
Vitamin A:
3303
IU
Vitamin C:
11
mg
Calcium:
58
mg
Iron:
2
mg
Thank you for helping support my small business! A Girl Defloured earns revenue in a few different ways; I have occasional sponsored post and I also earn an affiliate commission on the sales of products I link to— there are a few of those links in this post. The only items that I feature are those that I use on a regular basis and that I truly love. I earn a small commission on your purchase, but you don't pay any more than retail price. This allows me to share my recipes with you!