Gluten-Free Sourdough Discard Crackers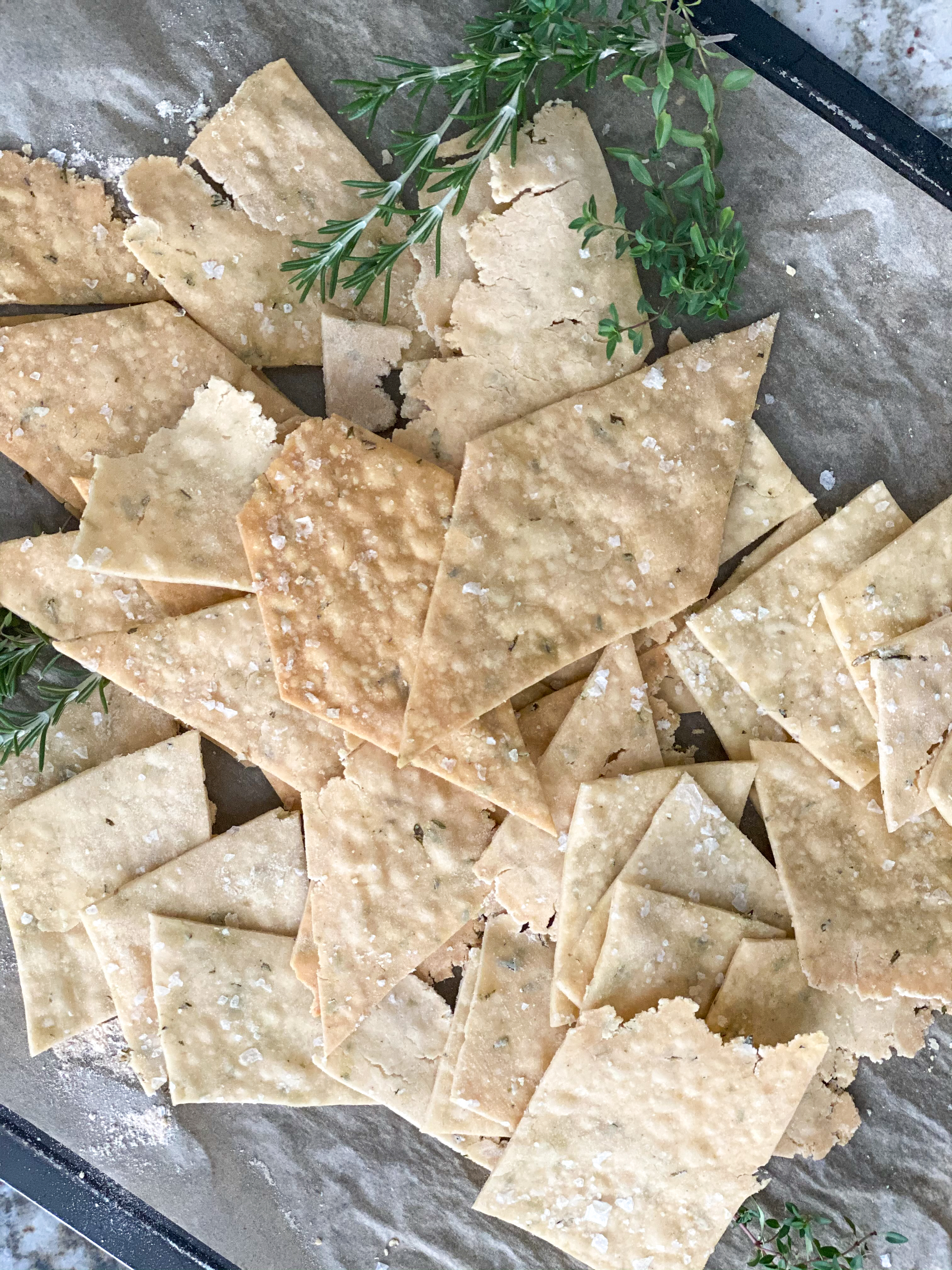 It's cheese board season, y'all! Or as the snooty ones like to call it, charcuterie season. The arrival of the holidays for us means we get to play with our food, and we love to create elaborate cheese platters with all the fixens. If you are one of the bazillion humans who got a sourdough starter going during the pandemic, you're in luck. Because I have a really great recipe that uses your unfed, sourdough discard – my super easy, super delicious, gluten-free herbed sourdough discard crackers that are prefect for your cheese boards or for your favorite dips.
These herbed sourdough discard crackers are:
✔ Gluten-free
✔ Vegan
✔ Easy to make
✔ SO delicious
✔ Perfectly salty
✔ Impressive on a cheese board
You really won't believe how quick and easy these are to make. Especially if you have a cat supervising you.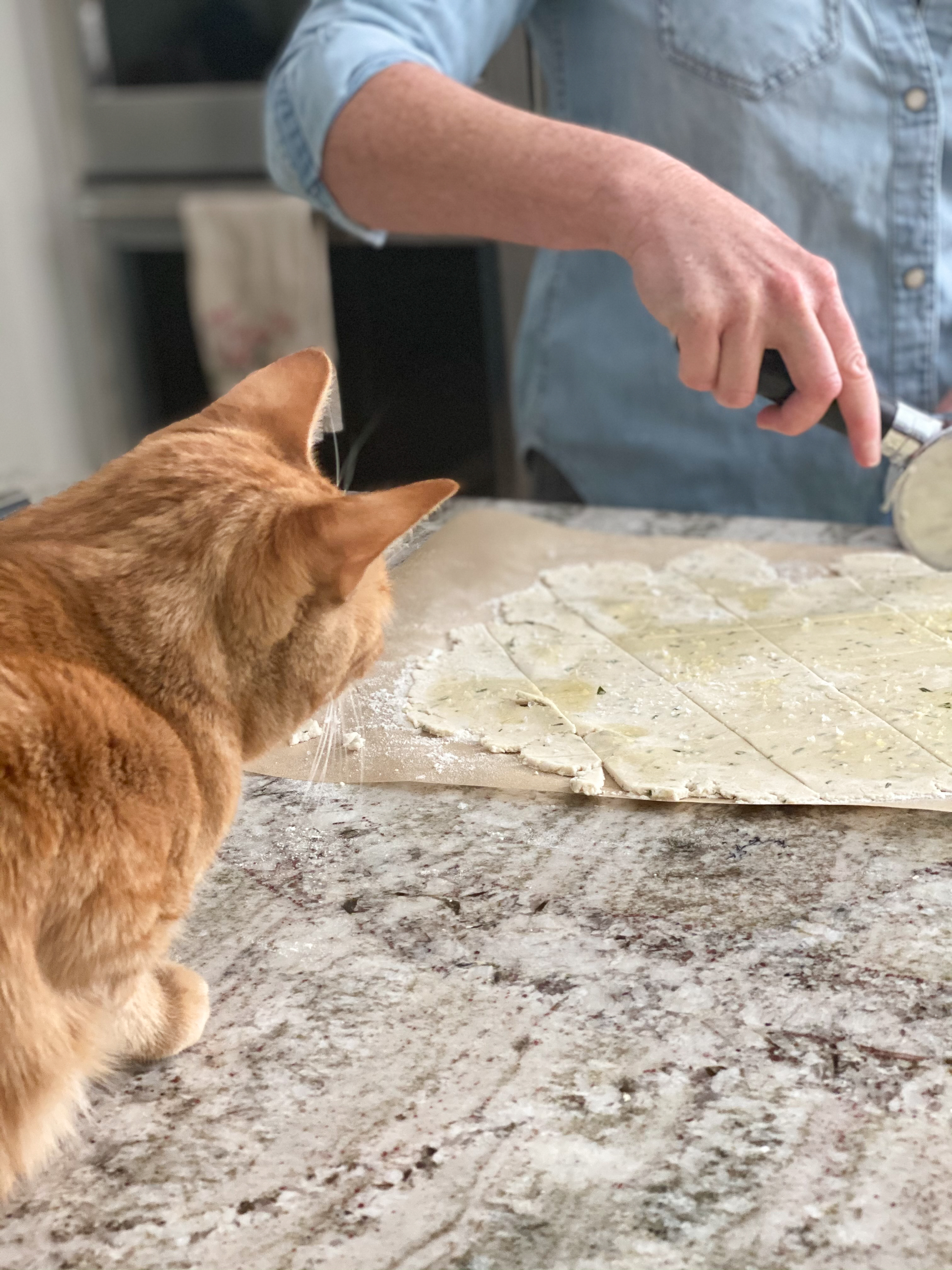 These herbed sourdough crackers are a swell accompaniment to a cheese platter, dipped into hummus, dunked into soup, and are the perfect shovel for hot, cheesy dips. If you have a hungry sourdough starter like I do, it's just awful to discard the discard, isn't it? These crackers are a great way to use it up and come together faster than you can run to the store and buy a box. I always use rosemary and thyme in my crackers because that's what I grow in my garden, but feel free to mix up the herb blend, or even use dried herbs.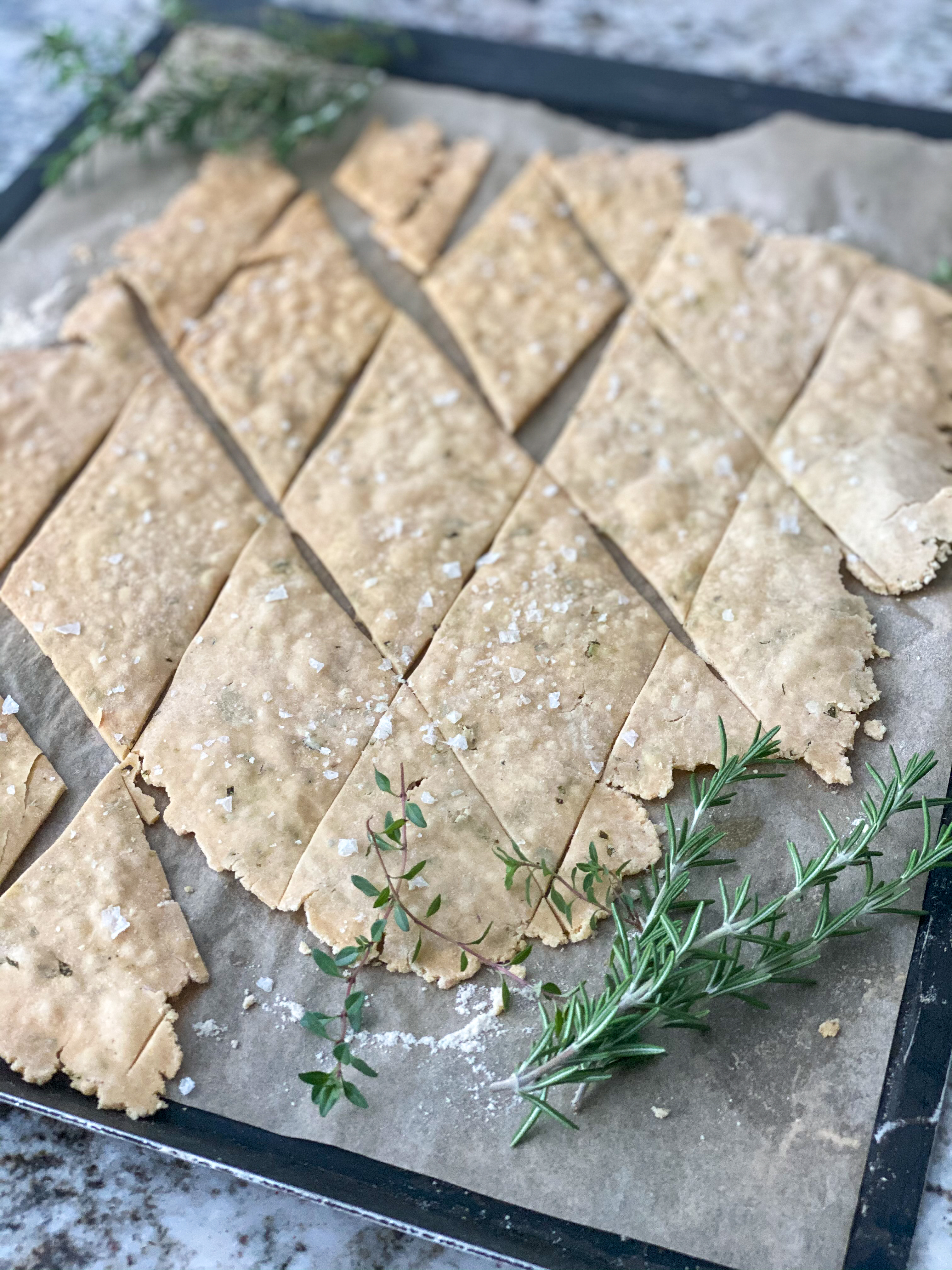 Enjoy!
Looking for more great cracker recipes? Try:

Gluten-Free Herbed Sourdough Crackers
These gluten-free herbed sourdough crackers are so easy to make and are perfect on charcuterie boards or for dunking into your favorite dip. To make them you must have a sourdough starter, but they are a great way to use up that discard.
Ingredients
1 cup unfed sourdough discard
1 cup gluten-free flour blend (or ½ cup brown rice flour, ¼ cup tapioca starch, ¼ cup potato starch)
¼ teaspoon xanthan gum (omit if your flour blend already contains it)
¼ teaspoon sea salt
2 tablespoons mixed fresh herbs, finely minced
4 tablespoons extra-virgin olive oil (plus more for brushing)
flaky salt
Instructions
Preheat oven to 350 degrees F.
Pour sourdough starter into a bowl. Add the flour blend (or flours), xanthan (if using), sea salt, mixed herbs and olive oil and stir with a wooden spoon until the dough begins to come together. Dump out onto a clean surface and knead until the dough is soft and pliable, like playdough. Divide dough in half and cover one half with plastic.
Line a baking sheet with parchment and lightly dust with brown rice flour. Roll one ball of dough out until it's as thin as you can make it, dusting with additional flour so it doesn't stick to the rolling pin. Brush surface with olive oil and sprinkle lightly with flaky salt. Cut dough into squares using a pizza cutter. You don't need to separate them because they don't spread in the oven. Repeat with the other dough ball.
Bake for about 20-25 minutes, or until the crackers are bubbly and lightly golden brown, swapping the pans after about 10 minutes. Cool completely. Store in an airtight container for up to one week (if you have any left...you won't).