Gluten-Free Lemon Lavender Mini Tarts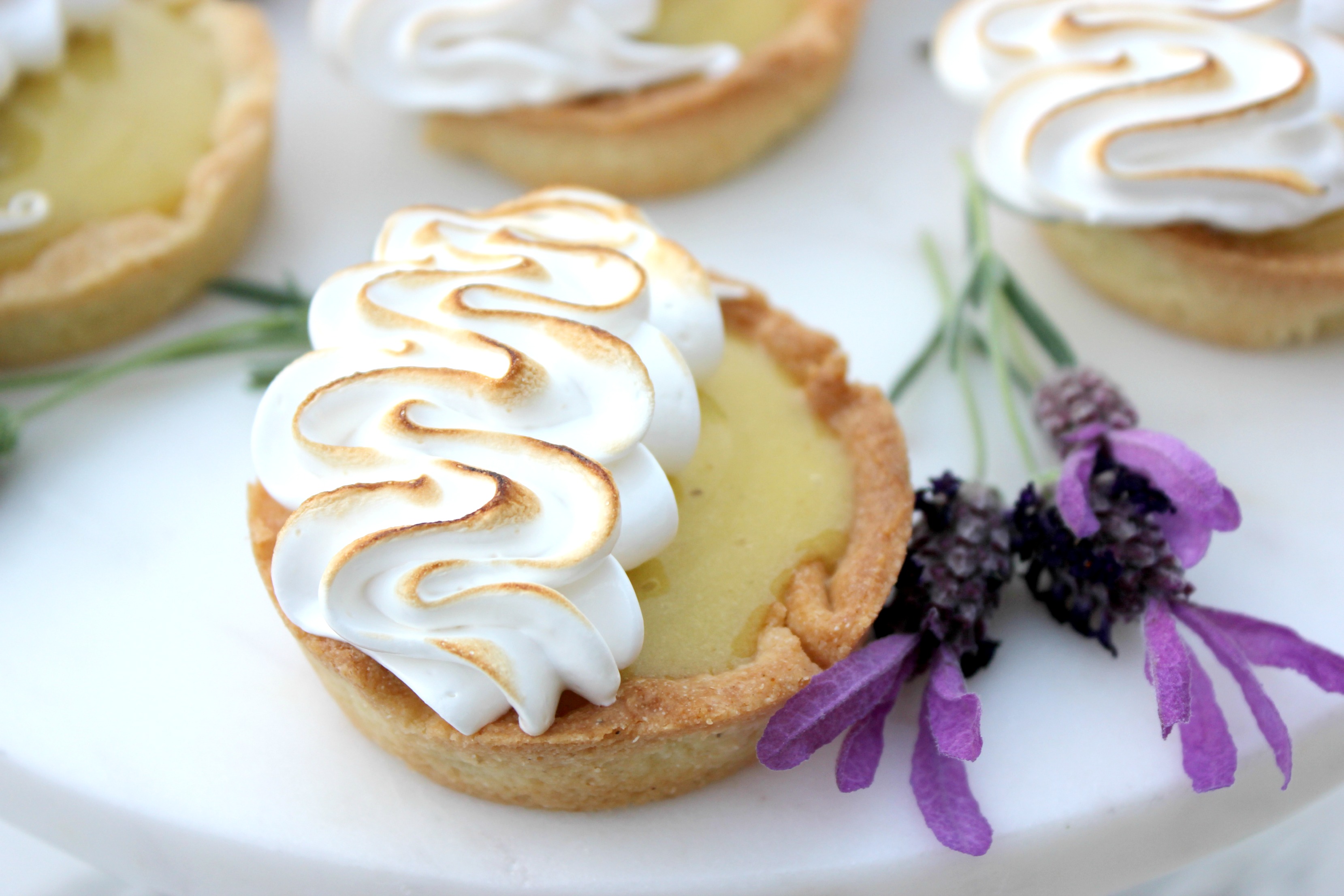 Gluten-Free Mini Lemon Lavender Tarts | Jump to Recipe
These Gluten Free mini Lemon Lavender Tarts are sweet and petite, and packed with zesty lemon flavor. Homemade lemon curd comes together in a snap and is poured into the most buttery shortbread crust. Top them with fruit, or toasted meringue. Either way, this two-bite treats are a showstopper!
This is the post in which I tell you that I am glad I have Celiac Disease. You read that right. I am actually HAPPY that I have it. Celiac Disease has made my life better. It has opened my world to new opportunities, forced me to become a better cook–and more notably a better baker, but most of all, it has introduced me to the most kick-ass group of friends a girl could ever want. This is also the post where I share my recipe for Gluten-Free Lemon Lavender Tarts, because when I get together with my friends, we bake all the good things!
GLUTEN-FREE FRIENDS YOU NEED TO KNOW ABOUT
Without Celiac Disease, I never would have met Mary Fran Wiley, who is starting her own nonprofit called Hope.Dance, to encourage and support those with pain disorders to find healing and freedom through dance. I never would have met Brandy Wendler, whose platform as Mrs. Alaska was raising awareness about Celiac Disease. She's a registered nurse, and continues to be one of our cause's leading advocates. I never would have met Erica Dermer, cat lover, author and blogger over at Celiac & The Beast. This girl keeps me in stitches and works her way around the country speaking out about Celiac Disease with her own special brand of (mostly potty) humor. I never would have met K.C. from G-Free Foodie. This lady, who is an incredible resource for our community, shares my love of food, wine and has a belly laugh that will make even the sourest sourpuss smile.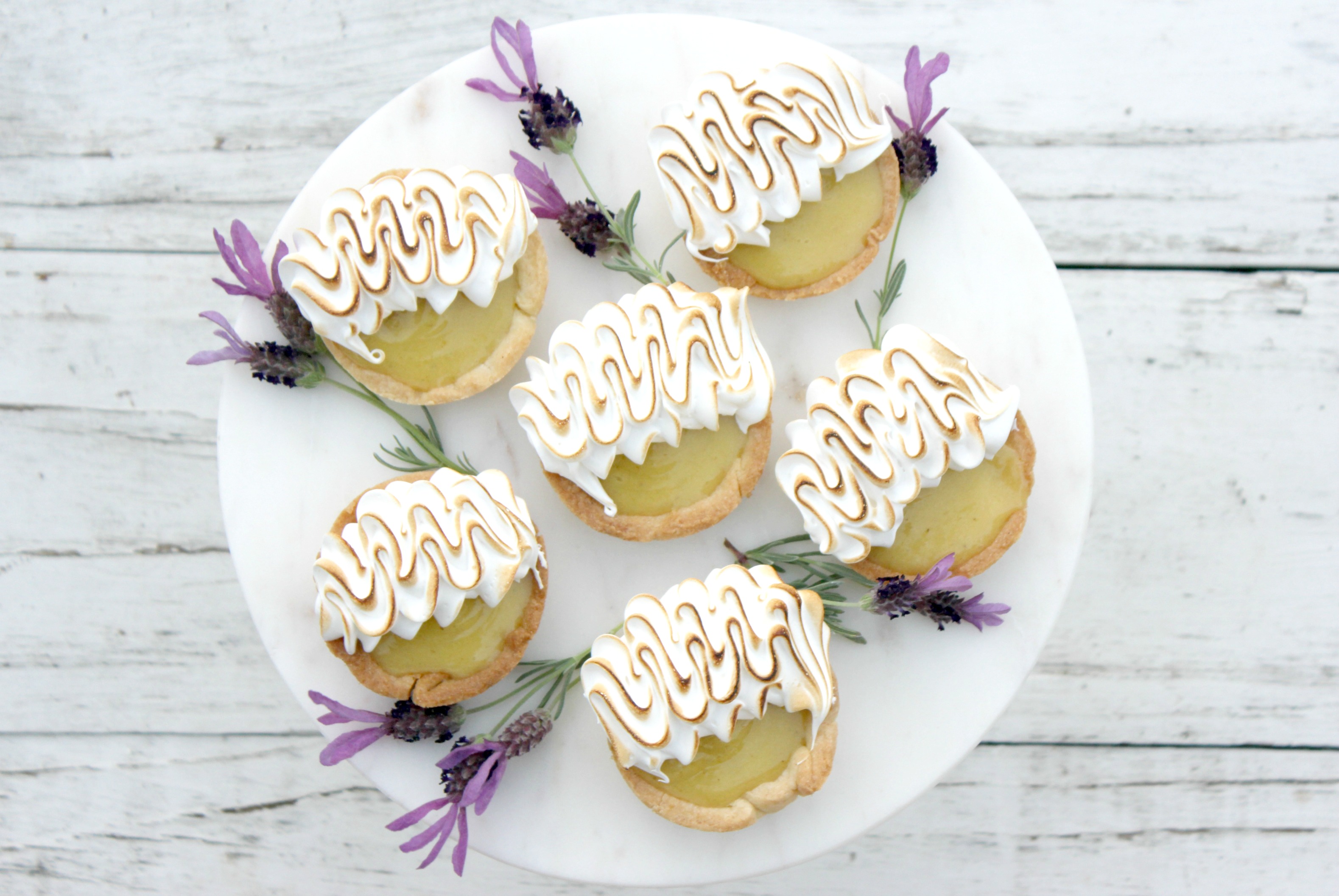 Without Celiac Disease, I never would have met Kyra Bussanich, FOUR time winner of Cupcake Wars, Owner of Kyra's Bake Shop in Portland, Oregon, and one of my dearest friends in the whole-wide world.
Which brings me to these tarts….
Happily, Kyra and I make sure to carve out time in our busy schedules to see each other a few times in person every year. The last time she came to visit, we made these Lemon Lavender Tarts, a riff on my favorite Luscious Lemon Tart, for dessert. Because with two bakers in the house, this sort of mischief is bound to happen.
Naturally, like all insufferable foodies, we had to take lots of pictures to post on our Instagram accounts. I think you will love these sweet little tartlettes. We sure did!
Gluten-Free Lemon Lavender Mini Tarts
These zesty tarts are sweet and petite. I imagine them being served after an elegant luncheon, on a wedding dessert table, or at a baby or bridal shower. Or just because.
Ingredients
For the tart crust:
¾ cup plus 2 tablespoons tapioca flour, plus more for dusting (also called tapioca starch)
¾ cup (non-GMO) cornstarch
¼ cup sweet rice flour (or glutinous rice flour)
⅓ cup, plus 1 tablespoon millet flour
Pinch of kosher salt
1½ teaspoons guar gum
1 cup confectioners' sugar
1 cup (2 sticks) cold butter, cut into cubes
1 large egg, plus one egg yolk, beaten
For the lemon lavender curd:
3 lemons
1½ cups sugar
1 tablespoon dried, culinary-grade lavender
¼ pound unsalted butter, room temperature
4 extra-large eggs
½ cup lemon juice (3 to 4 lemons)
Pinch of kosher salt
For the meringue:
4 extra large egg whites, room temperature
¼ teaspoon cream of tartar
½ cup sugar
Instructions
Make the tart crust. Place tapioca flour, cornstarch, sweet rice flour, millet flour, salt, guar gum and sugar in the bowl of a stand mixer fitted with the paddle attachment. Beat lightly to combine. Add the butter, and mix on medium speed until the mixture becomes pebbly. Add the eggs and beat just until the mixture turns on itself. Turn out onto a board that's been lightly floured with tapioca flour and knead for one or two turns. Flatten dough into a disk, wrap in plastic and refrigerate for at least 2 hours (it can be stored for a few days in the fridge).
Lightly flour a board with tapioca flour. Turn out the dough onto the board, and roll to a ¼ inch thickness. Cut the dough into rings using a small glass or jar (about 3 inches in diameter). Press the rings into the cups of the muffin tins so that the dough goes up about half way. Put the tins in the freezer for 30 minutes.
Preheat the oven to 375 degrees. Prick the frozen tart shells with a fork, place in the oven and bake for about 15-20 minutes, or until the tart crust is golden brown. Remove from the oven and using a spoon, press any air bubbles out of the crusts. Let cool for 10 minutes, then carefully lift out of the tins onto a cooling rack.
Make the lemon curd. Remove the zest from the lemons using a vegetable peeler, taking care to use only the yellow part of the peel, not the white pith. Place into the bowl of a food processor fitted with a steel blade attachment. Add the sugar and lavender and pulse until the zest is chopped into tiny bits and thoroughly combined with the sugar. Add the butter and pulse until smooth. Add the eggs, one at a time and pulse until smooth. Add the lemon juice and salt and pulse again.
Pour the mixture into a medium saucepan set over low heat. Cook for 10-15 minutes, stirring constantly, until the mixture is quite thick...like a soft-set pudding.
Pour the mixture through a sieve into a bowl or pitcher, straining out any bits of zest or lavender.
Pour the warm curd into the cooled tart shells and set aside.
Make the meringue. Whip the egg whites, cream of tartar, and ¼ teaspoon salt in the bowl of an electric mixer fitted with the whisk attachment on high speed until frothy. With the mixer still running, slowly add the sugar and beat until the meringue is thick and shiny, about 2 minutes.
Spoon the meringue into a large piping bag fit with an open star tip. Pipe the meringue decoratively over the cooled tarts. (Alternatively, spoon the meringue over the tarts). Put the tarts on a pan and under a hot broiler for 30 seconds to lightly brown the tops--WATCH CAREFULLY (or use a small kitchen blow torch like we did).
Notes
Look for culinary lavender in gourmet shops, or find it online.