Delicious Gluten Free Toaster Strudel With Pumpkin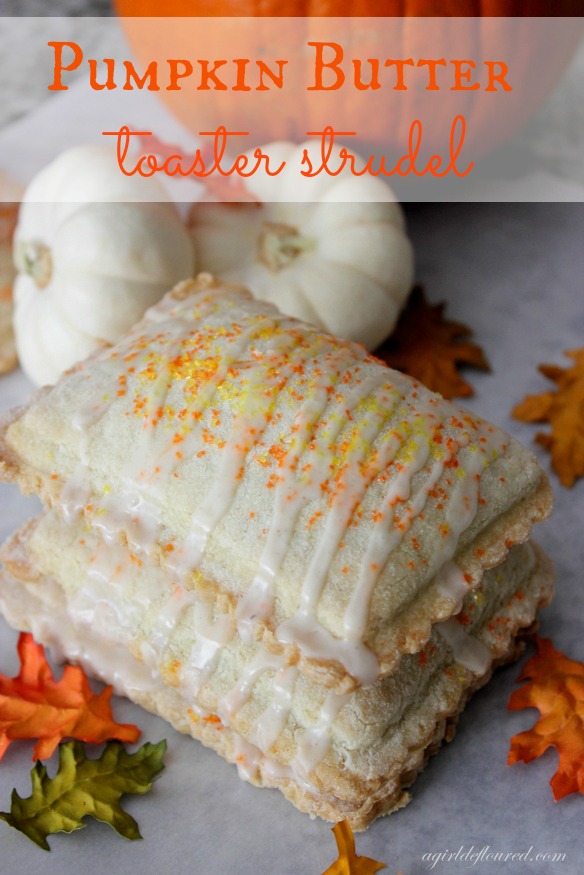 We are heavy in to autumn. At least that's what the calendar says. Here in Southern California, the weather is still quite hot. But I can smell fall in the air. And I can see how the color of the sun has turned from bright to burnished. And that gives me hope that someday soon I'll be able to wear that cute fox printed scarf I just bought.
Recipe card & instructions updated 3/7/22.
Jump to Recipe
Happily, the warm weather hasn't kept me out of the kitchen! My new bakery, Ginger & Fox Bake Shop, has been busy with orders. And these gluten free toaster strudel were a favorite last week. Filled with rich pumpkin butter (you can make it yourself, but store bought is fine too) and surrounded with flaky pie crust, they really are the best toaster strudels I think I have ever tasted.
I make these using my regular pie crust (adapted from Blackbird Bakery). The recipe is enough to make 12 toaster strudels, however I usually freeze half of the dough to use as the bottom shell of my apple pie when I'm making these for my family.
How is the weather in your neck of the woods? Are you sick of PUMPKIN EVERYTHING yet?
Love gluten free toaster strudel? Here are some other recipes that you should try:
Did you make this recipe? Be sure to leave a comment and star rating below (⭐⭐⭐⭐⭐) and post a picture and tag us on Instagram using the hashtags #agirldefloured #deflouredrecipes! Thank you!
Gluten Free Pumpkin Butter Toaster Strudel
These sweet pies are the perfect fall treat, and they're equally good with homemade pumpkin butter or store-bought. We eat them for breakfast, or an after school snack, but I think they would also be wonderful on your holiday dessert table.
Ingredients
Instructions
Prepare the crust. In a food processor fitted with the metal blade, combine all the dry ingredients on low speed. Slowly add the butter and pulse until the mixture resembles coarse crumbs.

Add the eggs, one at a time, and pulse until the mixture forms one solid lump.

Turn out onto a work surface, dusted with rice flour and knead 3 times. Divide in half, pat each half into a disk, and wrap well with plastic. Freeze for 30 minutes. (This recipe is enough for 12 toaster strudel, but I usually make only 6, reserving the second crust for my apple pie.)

Remove one disk from the freezer after it has chilled. Place a sheet of parchment on the counter and dust with sweet rice flour. Unwrap the dough and place on the flour. Dust the top of the dough with more flour and top with a second sheet of parchment. Roll into a long, narrow rectangle until it is about ¼ of an inch thick.

Cut the dough into 3×5 rectangles. Place 6 rectangles on a parchment-lined baking sheet (I usually end up with about 8 or 9) an inch or so apart. Carefully set aside the remaining rectangles, gather the dough scraps, dust with more rice flour and re-roll out so you can cut the remaining necessary rectangles, for a total of 12.

Dollop 1 tablespoon or pumpkin butter into the middle of the dough rectangles you have placed on the baking sheet. Spread it out over the dough, leaving a ½ inch border around the edges. Dampen the dough edges with water and cover with the remaining dough rectangles, gently pressing the edges to seal. Decoratively crimp the edges with the tines of a fork and freeze for 15 minutes, or until firm. (If you are using the toaster-strudel cutter, gently seal the edges and freeze for 15 minutes. After it is firm to the touch, remove from the freezer and press the cutter around each pie. Use the edge stamp to seal in the filling.)

While the dough is resting in the freezer. Preheat the oven to 400 degrees.

Beat the egg with a teaspoon of water, remove the pies from the freezer (cut and press if using the toaster strudel cutter) and brush the egg wash over the pies. Pierce the top layer of each pie with a knife then bake for 20-25 minutes. Remove the pies to a rack to cool completely.

Make the glaze. Whisk the powdered sugar with the milk and vanilla until smooth. Add a pinch of pumpkin pie spice and whisk again. Drizzle the glaze over the strudel and let dry. Reheat in the toaster or oven to serve.
Notes
These sweet pies are the perfect fall treat, and they're equally good with homemade pumpkin butter or store-bought. We eat them for breakfast, or an after school snack, but I think they would also be wonderful on your holiday dessert table.
Nutrition
Calories:
261
kcal
Carbohydrates:
25
g
Protein:
3
g
Fat:
17
g
Saturated Fat:
10
g
Polyunsaturated Fat:
1
g
Monounsaturated Fat:
5
g
Trans Fat:
1
g
Cholesterol:
96
mg
Sodium:
217
mg
Potassium:
66
mg
Fiber:
1
g
Sugar:
6
g
Vitamin A:
1342
IU
Vitamin C:
2
mg
Calcium:
19
mg
Iron:
1
mg
Thank you for helping support my small business! A Girl Defloured earns revenue in a few different ways; I have occasional sponsored post and I also earn an affiliate commission on the sales of products I link to— there might be a few of those links in this post. The only items that I feature are those that I use on a regular basis and that I truly love. I earn a small commission on your purchase, but you don't pay any more than retail price. This allows me to share my recipes with you (and keeps me well fed). THANK YOU!