Easy and Delicious Strawberry Basil Jam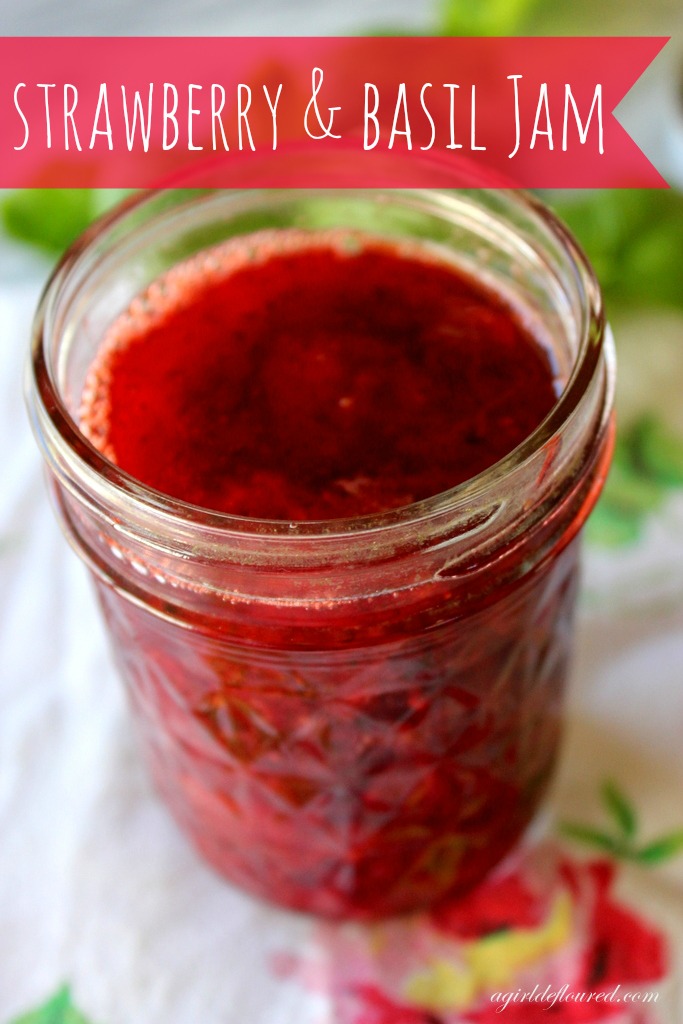 This easy and delicious Strawberry Basil Jam is wonderfully glossy, soft-set, and not overly sweet. I love to spread it on toast, make almond butter and jam sandwiches, or stir a spoonful into some plain yogurt, topped with crunchy granola.
Jump to Recipe
Recipe card, images and instructions updated 7/5/22
I make jam a few times a year, some for the kids (like fresh strawberry jam made from scratch), some for my husband (like apricot), and some for me (like tomato chile). Jamming feels like real and meaningful work, and I love the whole process from the chopping, pitting and peeling to the boiling pots that steam up a summer kitchen. But the best part of making jam, besides tasting it, is the way the intoxicating fragrance fills up the house and pours out through the open windows into the garden. It's strong enough to draw the children back inside from their games with neighborhood pals to beg a sip of syrup that collects under the foam that I've skimmed from the simmering pot (which is also, incidentally, fabulous when drizzled over ice cream).
When I opened my fridge after returning home from the conference last weekend in Chicago, I noticed that we had a couple of baskets of over-ripe strawberries. Their skin was dark and beginning to wrinkle. There was no mold yet, but they were way past their prime. I considered making a compote, but decided that it would be more fun to make jam. Because very ripe fruit contains little pectin, I purchased another box of under-ripe, organic strawberries, so the jam would jell.
I enlisted the help of my daughter, who eagerly tied on her blue butterfly apron and got to work, stemming and chopping up the berries. We decided to leave the tiny ones whole for a little texture. We also decided to blitz some basil with the sugar for added depth of flavor. Basil + strawberry is my favorite of all the herb and fruit combinations that I've tried. The basil is nearly undetectable, but it makes the strawberries taste even more of strawberries as it brightens and accentuates their flavor.
How to Seal Jam Jars (Without a Water Bath)
Unlike other jam recipes I've tried in the past that called for heaps and heaps of sugar, this recipe only calls for one cup. The resulting jam is delightfully sweet and tart, shockingly pink, and studded throughout with soft, juicy berries. I adapted the recipe from Gourmet Preserves by Madelaine Bullwinkel. According to her, jam jars can be filled and sealed by simply inverting them briefly, instead of boiling them in a water bath. I've never tried it that way–I'm always paranoid about getting a proper seal–but since I made such a small batch, I decided to give it a go. The one jar that I filled for storage in the pantry seemed to seal securely after being inverted. But if that method doesn't feel safe to you, boil the filled and lidded jars in a large pot for 10 minutes, making sure they are covered by at least one inch of water.
Jam like this goes quickly in our house. We eat it on biscuits or with yogurt for breakfast, partner it with almond butter and bread for lunch, and spoon it over vanilla ice cream for dessert. I loved this variation so much that next time I make it (probably with native Cape Cod berries this summer), I'll make a huge batch to last us a whole year.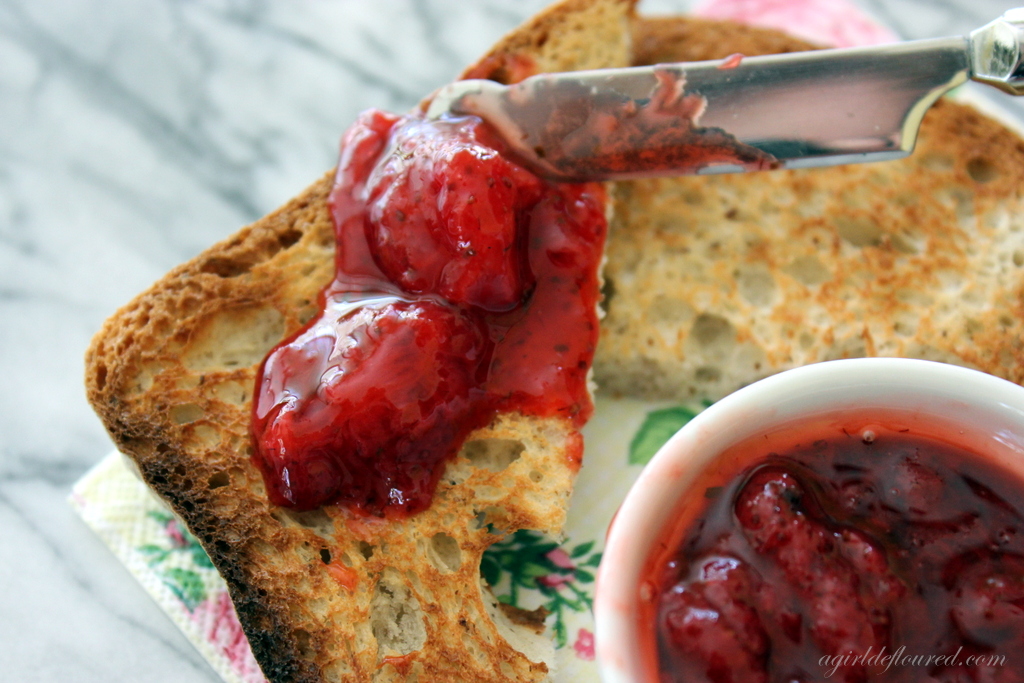 Love Homemade Jam? Try these other recipes:
If you make this recipe, or any other recipe from my blog, drop a comment below and be sure to tag me on Instagram, and use the hashtags #agirldefloured #deflouredrecipes! Thank you!
Fresh Strawberry Basil Jam Made from Scratch
This jam is wonderfully glossy, soft-set, and not overly sweet. I love to spread it on toast, make almond butter and jam sandwiches, or stir a spoonful into some plain yogurt, topped with crunchy granola.
Instructions
Remove the stem from the strawberries and halve or quarter them if they are large. Place them in a large stockpot with the water and bring to a boil. Cover, reduce heat to medium and continue to boil for 10 minutes, stirring occasionally to prevent the berries from sticking to the pot.

Meanwhile, put the sugar and basil leaves into a food processor fitted with a steel-blade attachment. Pulse until the basil is finely minced and the sugar turns a pale green color. Set aside.

Remove the lid from the pot and stir the lemon juice into the berries (after they have simmered for 10 minutes). Add the sugar, ½ cup at a time, waiting for the liquid to return to a boil before adding more. Continue to boil for another 5 minutes, stirring frequently. Skim any foam that rises to the surface, if desired. Cook only until the jam begins to stick on the bottom of the pot. You should be able to draw a trail through the jam with your spatula. Another sign that the jam is ready is that it will begin to sputter.

Pour jam through a funnel into hot, sterilized jars to within ¼ inch of the lips. Wipe the rims clean with a paper towel that you've submerged in the vodka. Attach new lids, and screw caps tightly. Invert jars briefly to vacuum seal, or process in a boiling water bath, submerged by 1 inch, for 10 minutes.
Nutrition
Serving:
1
tablespoon
Calories:
26
kcal
Carbohydrates:
7
g
Sodium:
4
mg
Potassium:
34
mg
Fiber:
0.4
g
Sugar:
6
g
Vitamin A:
9
IU
Vitamin C:
11
mg
Calcium:
4
mg
Iron:
0.3
mg