The Perfect Gin Cocktail for Summer
This zippy Gin Gimlet has a secret ingredient – muddled celery. This simple addition adds an extra dimension of flavor without a strong celery juice flavor. Gin gimlets are one of the simplest cocktails to make. Typically made with gin, lime juice, and simple syrup, this version smashes some fresh celery in the shaker along with lime slices to create a beautiful, bright cocktail that I know we'll be sipping all summer long.
Jump to Recipe
Why is it called a gin gimlet?
There are a couple of theories as to the origin of the name, but both have to do with the health of British Navy sailors. Back in the day, sailors were given daily rations of lime (to prevent scurvy) and gin (thought to prevent illness and disease). Combining the two with a touch of sugar to make it more palatable was how the cocktail came to be. Was it named after the boring tool used to drill holes in the gin casks (a gimlet) or was it named after naval doctor Rear-Admiral Sir Thomas Desmond Gimlette? No one really knows for sure!
What's the difference between a gin gimlet and a gin sour?
A gin gimlet is simply gin, lime juice and sugar. A gin sour is gin, lemon (or lime) juice, sugar, egg white and bitters.
How much sugar is in a gimlet?
They typical gin gimlet contains 2 1/2 ounces of gin, 1/2 ounce of lime juice and 1/2 ounce of simple syrup.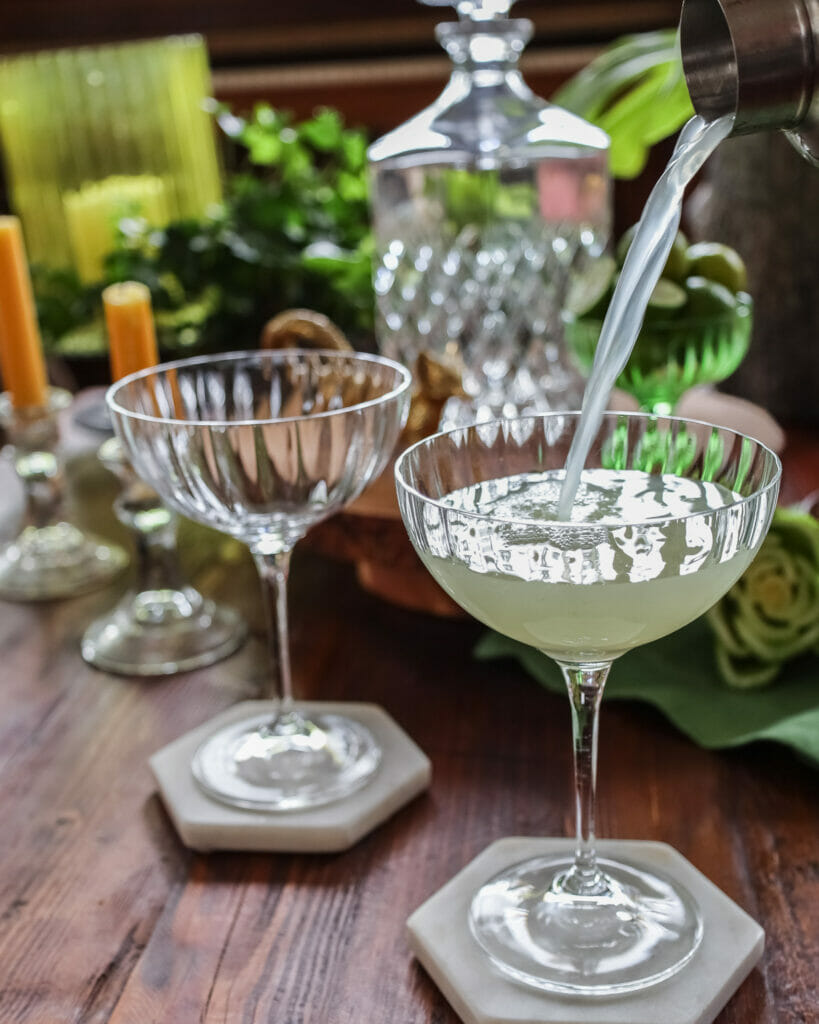 How to make a perfect gin cocktail – an easy Gin Gimlet recipe
Gin gimlets are so very easy to make and don't require a lot of fancy liquors or mixes. Here's what you need to make this light and refreshing gin cocktail:
Gin – for this Gin Gimlet, I prefer using a light and floral gin like Hendricks or Bombay Sapphire.
Freshly squeezed lime juice + lime slices for garnish – don't use the bottled stuff in this please.
Simple syrup – simple syrup is so easy to make in the microwave. I typically use 1/2 cup sugar and add 1/2 cup water and microwave it in a small measuring pitcher for about a minute or until the sugar dissolves. You can keep any extra in a jar in the fridge.
Sliced celery – fresh celery adds a depth of flavor and is so refreshing and delicious in this gin cocktail!
What makes gin gluten free?
Like all distilled spirits, gin – even gin made with wheat or barley – is gluten free. the distillation process removes any gluten proteins. There is a slight chance that flavored gins may have added gluten, or that you could come into cross-contact with gluten at a bar. But gin, in general, is safe for people with celiac disease. Obviously, if you have a reaction to gin or any spirit, steer clear!
Do you really need a cocktail shaker?
A cocktail shaker is an essential tool for any home bar (or kitchen, frankly). Here's what you're going to need to make this gin cocktail at home.
Cocktail shaker – a good quality cocktail shaker should be slightly heavy weight, seal properly and come apart easily. I like this one.
Citrus squeezer – I use my citrus squeezer all the time when I'm making salad dressings, guacamole, and cocktails. Look for a sturdy, stainless steel citrus squeezer that is easy to use, and easy to clean like this one.
Muddler – Muddling means to smash something in a shaker to infuse flavor and juice into a cocktail. I use a wooden muddle to muddle herbs, berries, citrus, and in this recipe, celery into my cocktails for a fresh boost of flavor. I prefer a wooden muddler because I like the looks of them, but stainless muddlers are fine too.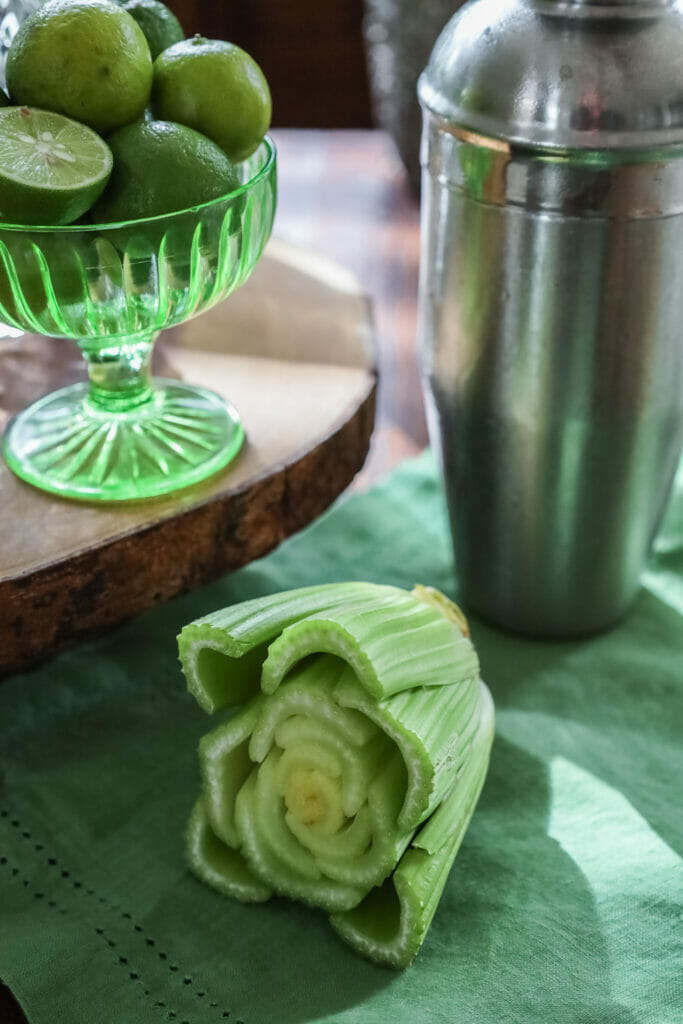 What to do when you have a lot of celery (besides make this gin cocktail)
I know that celery may seem a bit boring when it comes to veggies, but I really love it. It adds so much crunch and an earthy bite to everything from green salads to chicken and tuna salads as well as stirfrys. But it's celery is also delicious when it's the star of the show. My Braised Celery recipe is one of the most popular recipes on my blog for a reason. And may I also suggest this Celery Slaw recipe and Cream of Celery Soup that I developed for California Grown? They are easy to make and absolutely perfect when you have a lot of celery on hand. Still craving more? Check out these insanely delicious recipes for celery.
More summer cocktails to enjoy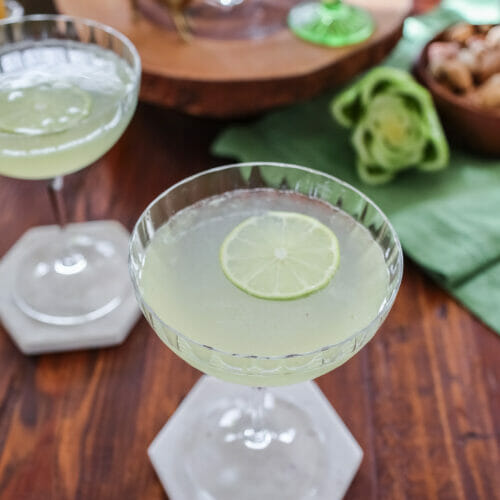 The Perfect Gin Cocktail for Summer – Gin Gimlet with Celery
This zippy Gin Gimlet is perfect for summer. It's got all the usual suspects (gin, simple syrup and lime) but the addition of muddled celery makes it truly special. Though it doesn't taste overly much like celery, it lends a depth of flavor and subtle earthiness to this light and refreshing gin cocktail.
Ingredients
For the garnish
Instructions
Make the simple syrup. Put the sugar and 1/2 cup of water in a 2-cup Pyrex measuring pitcher (or similar microwave-safe container). Microwave for 1 minute or until sugar is dissolved. Set aside to cool.

Add the 2 lime wedges and celery to the bottom of a cocktail shaker. Using a muddler, pound until juice is released.

Fill the shaker with ice. Add the gin, lime juice, and simple syrup. Cover shaker with lid and shake vigorously for 15 seconds. Remove top of shaker and strain into two martini glasses. Serve immediately, garnished with a lime wheel.
Notes
Store any extra simple syrup in a jar in the fridge. It will last in the fridge for about a month. 
Nutrition
Serving:
1
cocktail
Calories:
213
kcal
Carbohydrates:
14
g
Protein:
0.3
g
Fat:
0.1
g
Saturated Fat:
0.01
g
Polyunsaturated Fat:
0.03
g
Monounsaturated Fat:
0.01
g
Sodium:
20
mg
Potassium:
78
mg
Fiber:
1
g
Sugar:
11
g
Vitamin A:
73
IU
Vitamin C:
10
mg
Calcium:
15
mg
Iron:
1
mg
Thank you for helping support my small business! A Girl Defloured earns revenue in a few different ways; I have occasional sponsored post and I also earn an affiliate commission on the sales of products I link to— there are a few of those links in this post. The only items that I feature are those that I use on a regular basis and that I truly love. I earn a small commission on your purchase, but you don't pay any more than retail price. This allows me to share my recipes with you!