Violet Champagne Cocktail – The Elizabeth Taylor
Sometimes an occasion calls for a decidedly floral cocktail – Mother's Day, perhaps? Or maybe a bridal or baby shower? When it's time for such an occasion, have I got the perfect cocktail for you! This light and refreshing violet champagne cocktail, which I fondly call the Elizabeth Taylor, has a touch of violet liqueur, a splash of lemon, and is topped with brut champagne. It's so simple to make and looks extremely fancy when garnished with an edible flower, violet preferred, or if you aren't lucky enough to live where they grow, violas will do just fine.
Jump to Recipe
Recipe card and instructions updated 6/3/22
How to Make A Violet Champagne Cocktail
Bette Davis once famously said, "There comes a time in a woman's life when the only thing that helps is a glass of champagne." This beautiful violet champagne cocktail will surely help make any event more festive (or more bearable). Here's what you'll need to make each cocktail:
1 ounce of violet flavored liqueur (Crème de Violette)
1 teaspoon of lemon juice
4 ounces (about, depending on the size of your glass) of brut champagne
edible flowers to garnish
What is the Best Kind of Glass for Champagne Cocktail?
Champagne and champagne cocktails are usually served in either of two glasses; a coupe glass or a champagne flute. Coupe glasses (apparently they're also called champagne saucers?) were very popular around the turn of the century and are the kind of glassware you'll see in period films and images. Though it has somewhat gone out of favor, it's making a bit of a comeback due to its retro style and vintage charm. The main disadvantage to this type of glass is that the champagne looses its bubbles more quickly. This is, of course, a non issue if you can drink your cocktail quickly. Ahem.
The other more popular glass for champagne is the flute, and what you might typically think of as a champagne glass. It's tall and thin and does an amazing job of creating lasting fizzy bubbles. Unfortunately, because this type of glass has such a small opening at the top, it prevents the release many of the champagne's aromas and flavors.
There is a third choice as well – a tulip style champagne glass, which is narrower at the bottom and top and wider in the middle. This allows more aeration of the wine and more development of flavors, while still capturing the effervescent qualities of the champagne.
While you can always just use a wine glass if that's what you have in the cabinet, if you enjoy champagne and champagne cocktails, it might be worth the investment in glasses that are specifically suited to the cause, especially if they are pretty.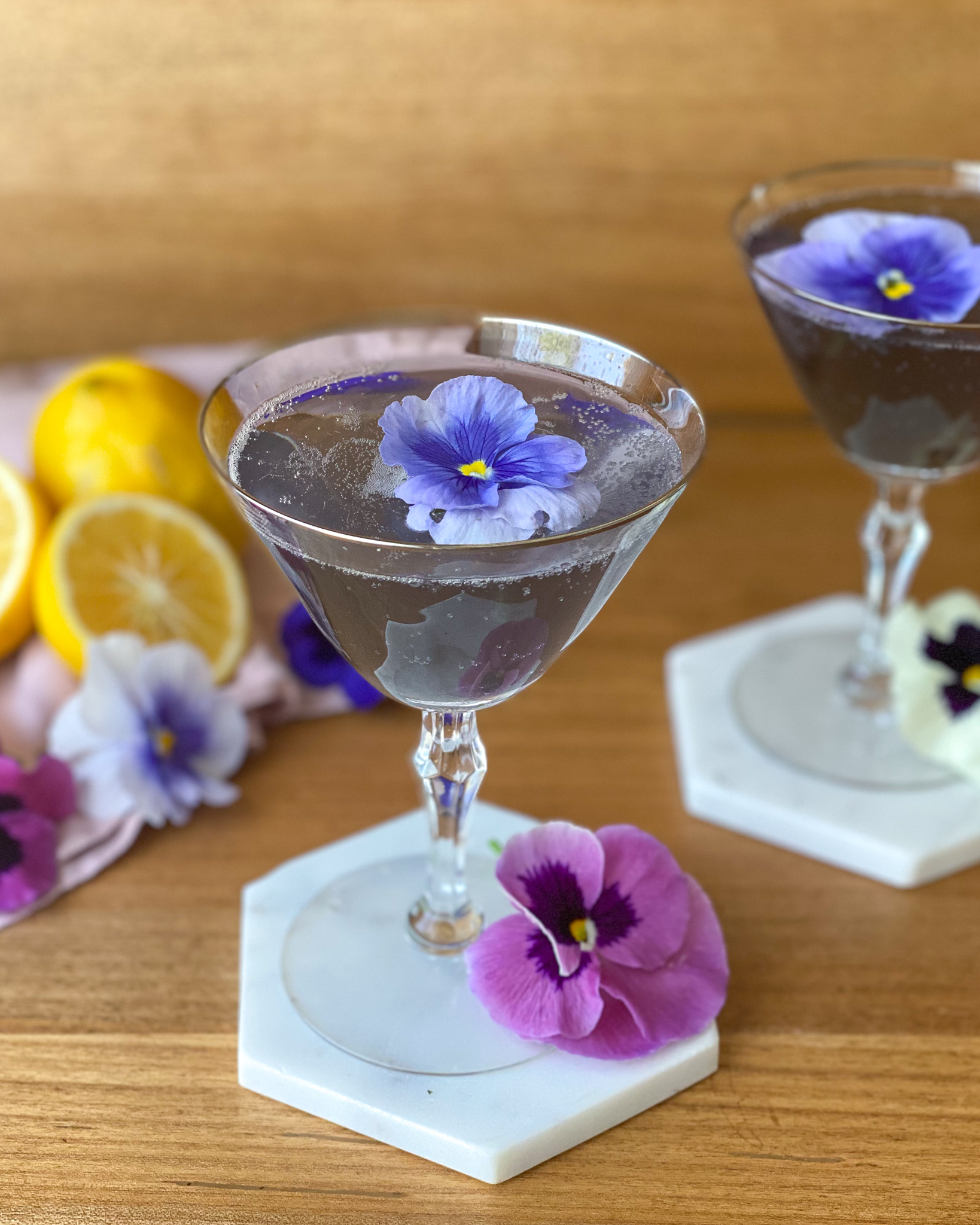 With Mother's Day just around the corner, I think this beautiful violet champagne cocktail would be a perfect, and special, way to treat Mom (or yourself)! It's floral, bright and absolutely delicious, and looks so perfect in an antique coupe glass. Cheers!
Love cocktails? Try these other recipes!
If you make this recipe, or any other recipe from my blog, drop a comment below and be sure to tag me on Instagram, and use the hashtags #agirldefloured #deflouredrecipes! Thank you!
Violet Champagne Cocktail – The Elizabeth Taylor
Elizabeth Taylor once famously said, "Pour yourself a drink, put on some lipstick, and pull yourself together." We concur! This lovely violet hued and flavored champagne cocktail will surely help make any event more festive.
Instructions
Pour the violet liqueur and lemon juice into your preferred serving glass. Top with champagne. Enjoy!
Nutrition
Serving:
1
cocktail
Calories:
107
kcal
Carbohydrates:
12
g
Protein:
1
g
Fat:
1
g
Sodium:
1
mg
Potassium:
9
mg
Fiber:
1
g
Sugar:
11
g
Vitamin A:
1
IU
Vitamin C:
2
mg
Calcium:
1
mg
Iron:
1
mg